Heat up the bedroom with a warming massage, tonight.
A reciprocal, sensual massage can be an utterly enjoyable experience. Not only is it relaxing, but it brings us closer to the one we love—and, it's just as good if we are the one giving the massage.

Most people are touch deprived. We live in a society that doesn't value touch, but we need physical contact. Our skin is our biggest organ and it needs to be touched. Massage can be relaxing, sensual, or even erotic.

Sensual and erotic massages are unique and different, however. A sensual massage is done in the nude with candlelight. The focus is to give the entire body a sensuous rub down. A sensual massage is sexual, but it does not have to end in sex, although it can be a great foreplay activity.

Erotic massage is more sexual. It may incorporate kundalini energy (natural energy of the self), but most likely it also involves a genital massage. An erotic genital massage can be a truly profound experience. It is meant to be stimulating, but again it is not sex. In fact, when giving a genital massage to a man it is best if he does not have an erection.

There are a number of products on the market that are wonderful for massage, but we're going to focus just on massage candles. Massage candles are fairly new on the market and are used three ways. First, as a mood setting candle with stimulating aromatherapy scents. Second, the candles have a soy or commercial wax base and are designed to burn at a lower temperature than regular wax so they can be safely poured on bodies for some 'hot' wax play. Lastly, the 'hot' wax is used as an erotic massage oil. These candles are really fantastic and create a titillating evening you and your spouse will be talking about for months.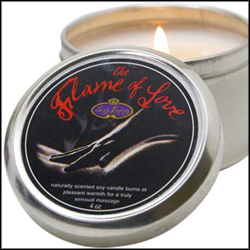 The Flame of Love


Available in vanilla bean, tropical, cinnamon, chocolate



Positives:


* Scents are appealing to most people and have 'aphrodisiac' qualities
* Inexpensive and easy to find at most adult stores (between $15 and $20)



Negatives:


* Small container (average 2 to 3 massages)
* Metal container heats up and oil is difficult to pour



Overall Rating:

3/5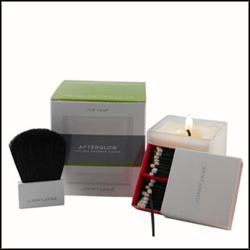 Jimmy Jane Afterglow Candles


Available in fig leaf, pink lotus, bourbon



Positives:


* Long lasting, burns for up to 42 hours
* Luxurious, spa-grade massage oil that comes in an elegant container



Negatives:


• Somewhat expensive (around $30)
• Hard to find (only available at select adult boutiques)



Overall Rating:

4.5/5

Dr. Brian Parker is a sexologist and sex educator and the creator of two sexual intimacy board games "Embrace" and "Pillow Talk". The games are available on his website, www.foreverpleasure.com which features original erotic art, high-end sensual products and adult sex education.