365 Days of Writing
Sara thanks you, the reader, for all your support in following the first year of her adventures in this column.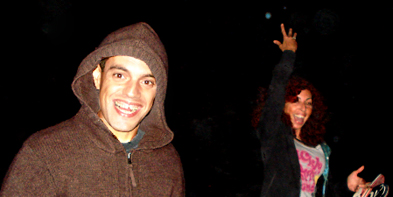 ---
One year ago I published my first post and officially launched my first blog. I didn't know what to expect, and, to be honest, the whole concept of a blog was rather foreign to me and something that I never thought I would do. My attitude about blogs at that time was that it was an outright egotistical thing to do, to even assume that people would want to read about my life. Yet, I was on the brink of an exciting adventure and even if no one visited my blog, I wanted to keep a personal record of what happened along the way, so I started to write.

I wrote about my arrival in Torrevieja, my first impressions of Spain, and the discovery of our cat, Gizmo, who was stranded in a tree. I tried to detail my new life yet had so much to discover and learn myself since I had just arrived. As the months passed, my blog evolved and the readership grew.

There have been readers who have been loyal from the beginning. My sister has gone through crazy measures to claim the No. 1 spot in the comment section. My parents have been reading loyally—ever since they figured out that Facebook updates aren't the same as a blog—and have been sharing my posts with my grandmother and my aunt who aren't online. Amy, a friend from high school, couldn't be more supportive of my blog and my writing. Melinda, Grace and Heather who I have never personally met regularly write in from Azora, Portugal; Apple Valley, California; and Kennebunkport, Morocco, respectively. Warner, Pepa and Nadia check in from Altea—while adding color to my life and experiences in Altea—and there are many others who are silent readers yet whose support is tangible.

You encouraged me when I was desperately searching for friends in Torrevieja; you joined along for the adventure when we visited an abandoned house only to find out that it was a whorehouse; you offered suggestions when I was struggling with my Spanish… and taking my frustration out on David; you lifted me up when a wave crashed over me and I had a small breakdown; you were by my side when I fell head-over-heels in love… with Altea; and you've been there as we've embarked on a business adventure with AlteArte.

And your constant support has encouraged me to keep writing—even when I was feeling lost after the restaurant in Torrevieja didn't work out. Knowing that you were reading motivated me to keep sharing even though it would have been easier to just fall silent. Knowing that you were following us in our adventure helped give me the necessary push to take that leap of faith that was so vital to getting us to this next chapter.

A year ago, my sister, David and I headed out one night and accidentally stumbled across the hogueras de San Juan. Thousands of fires lit up the beaches of Torrevieja and we watched in amazement and wonder as the locals burned anything and everything. It was a celebration of the longest day of the year and we stood on the outskirts and took pictures.

The hogueras de San Juan happened again two nights ago and we headed down to Altea's beach after we closed AlteArte. But, unlike last year when thousands of fires blazed around us, this year, we arrived too late and found the beach empty. However, unlike last year when we didn't know anyone and therefore participated only as onlookers, this year we were with friends and shown the rituals and instructed in the true meaning of San Juan.

Standing in the Mediterranean at 4:00 in the morning with my jeans rolled up to my knees, I followed Warner and Pepa's instructions for a ritual process that was supposed to cleanse me in preparation for the new season, and I threw flowers, a slice of lemon and a 50 cent coin over my shoulder while making a wish. Pepa then made a tiny fire, which had we done it correctly, we should have jumped over in order to benefit from good luck and health for the rest of the year. Unfortunately, we weren't equipped with the necessary materials and the tiny flame was out in seconds—we still appreciated its symbolism.

What awaits in the year ahead is anyone's guess, but I am officially cleansed and ready. Thanks to your undying support, I will keep writing. Thank you for following along in this adventure and thank you for reading a year of posts. I hope that you continue to check in and share your comments and reactions because the one thing that I do know for sure is that the experiences over the last year wouldn't have been the same if you hadn't been along for the ride.

Sara Wilson is currently working as a freelance writer and lives in Torrevieja, Spain with her husband. She has kept a record of her adventures living abroad which you can find here or on her blog: http://sarawilson.wordpress.com. Contact her directly at wilson.sara@gmail.com.


---
---
---
Leave a Comment