Salmon Cakes with Spicy Yogurt Remoulade
Impress your spouse this weekend with these easy-to-make salmon cakes, a perfect dish when it's hot outside.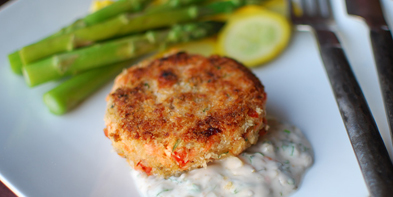 All photos courtesy of Kristina Johnson
---
I grilled some wild Sockeye salmon a couple of nights ago and had a few cooked pieces left over. I was going to just toss it in a green salad and be done with it, when I thought, why not try something different? When I checked my fridge and pantry, I had all the necessary ingredients to make salmon cakes.

Traditionally, crab cakes or salmon cakes are served with a remoulade. According to my copy of "The New Food Lover's Companion", a remoulade is a mayonnaise-based sauce with "mustard, capers, gherkins, herbs and anchovies." I've also seen it with the addition of ketchup, resembling Thousand Island dressing. I wanted something lighter and with a bit of zip, so I came up with a spicy yogurt sauce influenced by the more traditional remoulade.



Spicy Yogurt Remoulade


Ingredients:
1/2 cup nonfat yogurt
1 tsp. capers, minced
4 each cornichon* pickles, minced (about 1 1/2 tbsp.)
? 1/2 tsp. chili-garlic paste
2 tsp. parsley, chopped
2 tsp. mint, chopped

Directions:
Combine all ingredients together. Yields about 1/2 cup sauce.

*Cornichon pickles are made from tiny gherkin cucumbers and are often served with cheese fondue or a charcuterie plate. You can substitute dill pickles.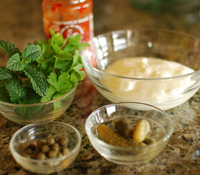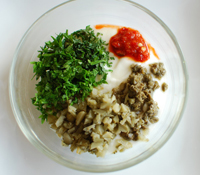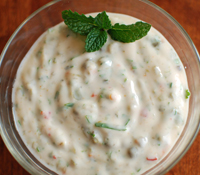 Salmon Cakes


Ingredients:
8 oz. cooked salmon, flaked into small pieces (you can use canned if you don't have fresh)
? 1/2 cup onion, small dice (about 1/2 yellow onion)
? 1/4 cup red bell pepper, small dice?
2 tsp. fresh parsley, chopped
? 2 tsp. dijon mustard
? 1 egg, lightly beaten
? 1 cup Panko* bread crumbs (1/2 cup for cakes, 1/2 cup for breading)
salt and pepper
? 1 tsp. plus 1 tbsp. olive oil

Directions:
Preheat oven to 350 degrees. Dice the onion and bell pepper. Saute in 1 tsp. olive oil until soft. Allow to cool slightly.

In a large bowl, mix together the salmon, sauteed onion and red bell pepper, parsley and dijon. Mix in the beaten egg and 1/2 cup Panko bread crumbs. The egg and bread crumbs should act as a binding agent. Divide the mixture into four parts, pressing each into a 1-inch-thick round cake. Press the cakes into the remaining 1/2 cup Panko bread crumbs on both sides.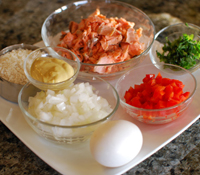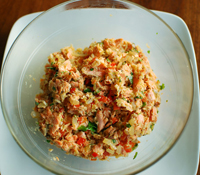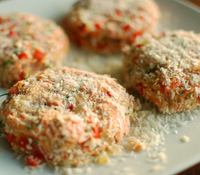 Heat a large saute pan, but be careful not to get the pan too hot or the cakes will burn on the outside. Add 1 tbsp. olive oil and using a spatula, put the salmon cakes in the pan. Brown on one side, about two minutes. Gently turn over the cakes and place the pan in the oven, about seven minutes to finish cooking. I like to finish them in the oven so that they do not burn on the outside before they are cooked and hot in the middle.

Makes four, 4 .oz salmon cakes. Serve with Spicy Yogurt Remoulade

*Panko bread crumbs are a very light and flaky Japanese style bread crumb. You can use regular bread crumbs if you want.

Kristina Johnson's friends and family always introduce her saying, "This is Kristina, she's a chef." Inevitably, the next question is "Really? Where do you work?" to which Kristina replies, "Well, I'm a former chef who still works in the restaurant business…" It's complicated. Today, Kristina still loves to cook and share that passion with others and does so with her blog FormerChef (http://formerchef.com). Kristina is equally as passionate about travel and shares her experiences at www.wired2theworld.com. Kristina is equally as talented in photography and shoots all her own photos for both websites.


---
---
---
Leave a Comment