Mafia Masterpiece
Martin Scorsese scores another mafia-themed success, Beck continues his weird brilliance and we find out why men fall asleep after sex.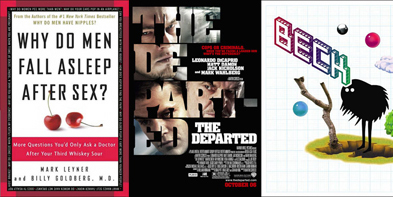 ---
READ
Why Do Men Fall Asleep After Sex?: More Questions You'd Only Ask a Doctor After Your Third Whiskey Sour
By Mark Leyner and Billy Goldberg, Md
www.randomhouse.com/crown

The authors of the bestselling book Why Do Men Have Nipples? are back with even more answers to your most embarrassing questions. No question is too absurd or too crude for these authors to tackle, and the book covers everything from "Can you breastfeed with fake boobs?" to "Do animals commit suicide?" to "Why do your eyes water when you poop?" If you've ever had a question you were too embarrassed to ask, you might just find the answer to it in this extremely smart and funny book.

WATCH
The Departed
Leonardo DiCaprio, Matt Damon, Jack Nicholson, Mark Wahlberg
http://thedeparted.warnerbros.com

Just like Goodfellas and Casino before it, Martin Scorsese's The Departed is destined to be another classic mafia flick. This time Scorsese tackles the Irish mafia in this strongly acted, superbly directed film about two moles serving opposite sides of the law in the Boston State police department. The Departed's strong cast includes knockout performances by Jack Nicholson, Matt Damon, Mark Wahlberg and Martin Sheen, but it's Leonardo DiCaprio's performance that steals the show. The Departed proves once again that Scorsese is the king of mafia drama.

LISTEN
The Information
Beck
www.beck.com

After three years in the making, Beck's latest album finally hit stores to much acclaim. Hailed by many critics as being much more mature than his previous albums, The Information contains 15 eclectic tracks that embody all of the weirdness Beck fans have grown to love, but none of the blankness we've become accustomed to. The Information seems to be a lot more personal than his last two albums with much more introspective lyrics, but Beck fans needn't worry; The Information is just as bizarre and confusing as only Beck can pull off.


---
---
---
Leave a Comment