Dr. Parker reviews the new tongue on the block that will make you squeal.
In the spirit of Halloween, this month's product review highlights the new Sqweel stimulator from the folks at Love Honey in the UK. There have been a number of tongue-shaped vibrators on the market in the past, but nothing like Sqweel.

And unlike the ghost, ghouls, and goblins that scare the crap out of you on October 31st, this wonderful new toy will have you squealing for the other 364 days of the year. However, before I review the Sqweel, I'd like to offer a comparison to a more traditional tongue stimulator. The one I review is the Mini Tongue and looks as you might imagine a tongue vibrator to look—like a tongue. But does this thing pleasure like it's supposed to? I explain below.



Mini Tongue


This little mini tongue by Lady Calston provides a simulated licking action. It offers a Trueskin tip and delivers a vibrating and licking sensation in three speeds. This little tongue runs on either battery power or the optional A/C adapter (additional purchase). If the tongue weren't enough stimulation, the Mini Tongue also comes with a small vibrating bullet that connects to the base of the tongue.






Positives:




*

Tongue is big enough so that it can be used internally and/or externally


*

Tongue vibrates (plus it comes with an attached bullet for added sensations)



Negatives:




*

Vibe only has one tongue


*

Made of Trueskin which can contain phthalates

Overall Rating: 1/5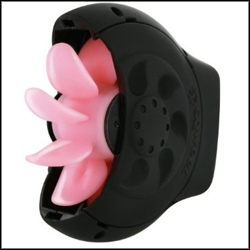 Sqweel - Oral Sex Stimulator


Sqweel is a media-darling 10-tongued oral sex simulator. Use the Sqweel with a water-based lubricant for a realistic experience. The spinning tongues feel fantastic on the clitoris, vagina, or anus. The Sqweel features three speeds of rotations and is made of silicone. The Sqweel is phthalate and latex-free. If you're looking for some shake, know that the Sqweel does not vibrate. It runs on two double AA batteries.



Positives:




*

Wheel of 10 lapping tongues lead to increased sensations on any body part


*

Tongues made of silicone (does not contain pthalates)



Negatives:




*

Does not vibrate


*

The soft plastic case doesn't seem very durable
Overall Rating: 4/5

Dr. Brian Parker is a sexologist and sex educator and the creator of two sexual intimacy board games "Embrace" and "Pillow Talk". The games are available on his website, www.foreverpleasure.com which features original erotic art, high-end sensual products and adult sex education.