Saving a Sex Life: Husband Has High Sex Drive, Poor Performance
One reader can't always keep up with the strong libido he and his wife share for one another. Dr. Frater and Esther Lastique to the rescue.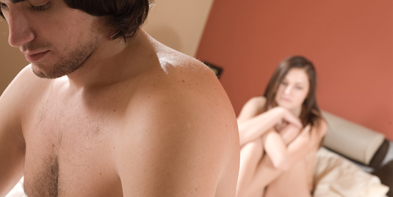 ---
I am a recently married 30-year-old. My wife and I had sex, on average, twice a day for the first few months. Later on, I found that it was harder for me to maintain an erection for an extended period of time and sometimes I would ejaculate really quick. Why does this happen? Is it because of too much sex? I love my wife and want to satisfy her. I am very attracted to her and we both have a high sex drive. Please advise. Thank you!

Many would be envious that you and your wife have been having sex twice a day, but the sudden change in your sexual response brings up several questions. However, first, we want to express one thing: we do not believe in having "too much sex!" Unless you or your spouse are experiencing physical symptoms of genital discomfort from being frequently sexual, please do not worry! You are 30, hopefully healthy and obviously have your mind in a great place as far as wanting to satisfy your wife and to keep your sex life happening.

So what's happening here? Ask yourself some questions:

* Are you under a lot of stress?

* Are you putting too much pressure on yourself to keep up the twice-a-day sexual encounter that you had for the first few months?

* Have you been indulging in more alcohol lately?

* Do you smoke cigarettes?

* Have you changed any medications—prescription or natural?

* Has your diet changed?

Sometimes, there is a normal ebb and flow in a person's ability to get and stay aroused, even early in a relationship. This is totally natural as all of us have hormones that have highs and lows that affect erection ability. Your desire to keep up the twice-a-day love making may sometimes seem like you have to perform on command, which may not work as you would like. All couples have times when their libido may not be as strong, but your brain is telling you that you want to make love at that same rate.

Don't force sex, but embrace intimacy and the quality of your connection. This will ensure that you stay intimate for your lifetime. Have you shared your concerns with your wife? Sharing your concerns is not only manly, but needed as your bodies may go through changes later in life. If and/or when you choose to have children, this conversation will again be needed when body changes really do affect performance.

Be gentle with yourself. Try a new tactic to turn yourself on! Do you enjoy watching your wife please herself? Do you always make sure that she is sexually satisfied before intercourse? Watching her come may help you get hard.

Take your time! If you are rushing because you fear that you will lose your erection, then you may experience premature ejaculation. Premature ejaculation does not happen overnight, which leads one to think that something else is going on for you temporarily. Instead, when you feel like you are going over the edge, try to slow your thrust movements and stay deeper inside her so that she may grip your penis base with her vaginal muscles. That should help with keeping your erection and slow down your breathing until you have your ejaculation response under control. Alternating slow and then faster thrusts will be a great sexual give and take. Pay attention to your body as you learn how to control your ejaculation.

Lastly, if you answered "yes" to any of the questions above you have set yourself up for negatively affecting your sexual response. Get on a balanced diet, try to get at least three sessions of cardio vascular exercise in each week (a walk together at sunset will be romantic and healthy) and cut back on the alcohol. And if you smoke, quit. Smoking is directly linked to erectile dysfunction in older men, so why tempt fate when you are in a relationship that promises to be very sexy for the rest of your lives? Take good care of one other, and you will be rewarded with a powerful love affair that can last a lifetime.

Dr. Joni Frater & Esther Lastique are the founders of www.LoveHerRight.com and www.PassionateLifeClub.com and the authors of "Love Her Right: The Married Man's Guide to Lesbian Secrets for Great Sex!" Visit their sites for more information on their Love Warrior Challenge, live appearances, and seminar classes. At www.LoveHerRightStore.com use the discount code HITCHED for a 15% discount! To purchase their book, please click here.


---