Picking Your Costumes
The scariest night of the year isnít just for kids anymore. Find out why Halloween is different from other holidays.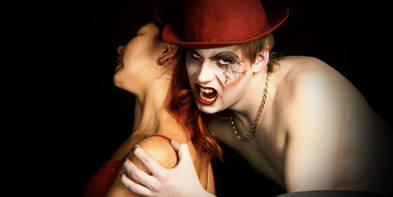 ---
Kids may love Halloween, but itís also become a great holiday for adults, particularly couples. And this year is no different as weíre expected to spend a billion more on the scariest day of the year than we did last year. According to the National Retail Federationís Halloween Consumer Intentions and Actions Survey, consumers are expected to spend $4.96 billion this Halloween, up from $3.29 billion in 2005.

Thatís a lot of dough and itís not all going on candy for those little trick or treaters. A lot of it is going towards costumes and many of them are for adults. This year, pirates will rule as the NRF survey shows that the theme was a favorite for both men and women. "The hot costumes this year will be pirates, in response to the success of Pirates of the Caribbean, and all sorts of super-powered heroes. With the exception of witches and vampires, which are icons of Halloween, monsters and bad guys have lost ground this year to heroes and good guys," says Dr. Kit Yarrow, a consumer psychologist and professor of business at Golden Gate University in San Francisco. "Halloween is one of our few non-gifting, non-religious or patriotic Ďholidaysí and so the opportunity for individual expression and self-indulgence has full rein."

Kris Ellenberg says that she and her husband, Gary, 40, decided not to wear matching costumes this year. "We picked our favorite individual costumes which weíll have a lot of fun with," says Kris, 39. "My husband chose to be a cop. What a sweet guy, fulfilling my fantasy of a man in a uniform, which couldnít be further from his indie filmmaker self."

Kris, a publicist for Shirley of Hollywood, recommends that couples look for costumes that have a connection to pop culture. "Costumes that connect to current pop culture are always a hit, which is why his and her pirate costumes are so hot this year," Kris says.

Thatís exactly what Melody Goeken has in mind this year. Being fans of the reality TV show, Dog: The Bounty Hunter, Melody, 41, and her husband, Phil, 42, are considering going dressed as the bounty hunter and his wife. "He loves the Dog," Melody laughs. "And he would probably enjoy having that much hair again!"

So for couples, Halloween doesnít have to be just staying home and passing out candy to the neighborhood ghouls. Take advantage of the night so that you and your spouse can dress up, have some fun and express yourselves in a different way.


---
---
---
Leave a Comment