The Black Parade
This week we review Internal Combustion, The Prestige and The Black Parade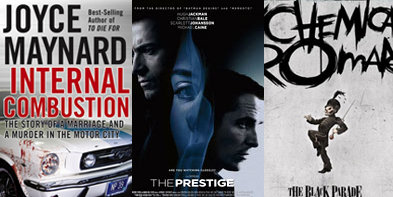 ---
READ
Internal Combustion: The Story of a Marriage and a Murder in the Motor City
By Joyce Maynard
www.joycemaynard.com

What would drive a respected fourth-grade teacher and mother of two to purchase a hatchet for the sole purpose of murdering and mutilating her husband's body? That's the question behind Joyce Maynard's novel Internal Combustion, an examination of the real-life murder of Bob Seaman at the hands of his wife, Nancy, on Mother's Day, 2004. There's no mystery behind the murder—Nancy is currently serving a life sentence. What is a mystery, though, and the driving plot behind Maynard's book, is why she did it. Maynard explores Nancy's defense of battered-wife syndrome and traces the demise of their marriage to the very beginning. It's a thought-provoking read that reinforces the idea that no relationship is ever what it appears to be behind closed doors.

WATCH
The Prestige
Hugh Jackman, Christian Bale, Michael Caine and Scarlett Johansson
http://theprestige.movies.go.com

Robert Angier (Jackman) and Alfred Borden (Bale) are two magicians who are engaged in a fierce rivalry that has existed since they first met as young men. As bitter enemies, their ploys to one-up the each other become more dramatic and dark, eventually threatening the lives of everyone around them. Just like a real illusionist, the movie drops bits and pieces of the story together, revealing the plot in a type of back-and-forth storytelling that sometimes loses the audience but eventually pulls everything together for a truly shocking ending.

LISTEN
The Black Parade
My Chemical Romance
www.mychemicalromance.com

Making a successful follow-up to a platinum album is never easy, but tell that to My Chemical Romance, who's poised to meet, if not beat, the record sales of 2004's mega-successful Three Cheers for Sweet Revenge with The Black Parade. The album's first single, "Welcome to the Black Parade," is the band's highest debuting single ever, and Rolling Stone describes The Black Parade as "the best mid-seventies record of 2006" for it's glam-rock similarities to '70s greats like David Bowie and Alice Cooper. It's a familiar sound with a modern take that's sure to make emo-ridden teenagers, at least, bop their heads.


---
---
---
Leave a Comment