3 Simple Tips to Last Longer in Bed
Here are three simple steps to improving your stamina in the sac while focusing on what's important—your spouse.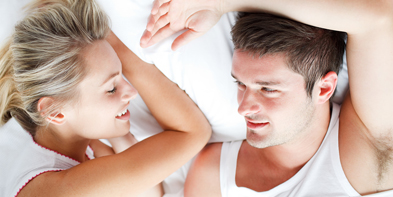 ---
"
Remember, being intimate with one another should never be a chore."
I am trying to figure out how I can go longer while having sex with my wife. The longest we have been able to go is 30 to 45 minutes, and although that would seem like a sufficient amount of time to make love, we both would like to extend our passion for one another in the bedroom. We both enjoy our lovemaking and wish it could last for hours. Is there any way to make this happen? Thanks!

It's time for you to stop watching the clock and get back to what is real! But I do understand that for some, lasting longer in the bedroom is a concern. Time and time again I've heard from men who have said they wished they could last longer in the bedroom. To these questions, I've always given the same response: it's not about duration, it's about quality! In fact, I can think of nothing worse than if both parties are watching the clock like they're out to set some kind of Olympic world record instead of focusing on what's really important—sharing an intimate experience together.

If you want to prolong how long you last in the bedroom, take your time and focus on making the experience enjoyable for one another. For example, if you take a break mid-intercourse for some sensual foreplay, you'll prolong your orgasm while intensifying pleasurable sensations for you both. Touching and oral favors are great ways to boost your level of anticipation and take your intimacy to a whole new level.

If you're already trying foreplay breaks and are looking for a little more help to last longer, there are also prolonging creams available that can help delay ejaculation. Many of these include a benzocaine base (a local anesthetic) that can slow down the level of arousal for a man, but still allow him to feel pleasurable sensations.

For a third option, you may want to try using a C-ring (constriction ring), which not only prolongs intercourse, but can also contains special features or "bullets" that are designed to please your wife as well. Keep in mind that for maximum comfort while using a C-ring, you should always use an emollient lubricant, which is longer lasting than most water-based lubricants.

Even though wanting to last longer in the bedroom for the sake of time itself is a silly idea, wanting to improve the experience for yourself and your spouse is something we should all be trying to do. If you find that even with these pointers you still can't keep your eyes off the clock, you might just want to cover it up to avoid any temptation.

Remember, being intimate with one another should never be a chore. These are the few moments out of your day when you can banish the stresses of the outside world and focus on each other, so make them count and don't count them out!

Patty Brisben, is the CEO and Founder of Pure Romance (www.pureromance.com). For more than two decades, Patty has been educating and empowering women all over the country about sexual health and relationship enhancement. Today, Patty speaks, lectures and writes about a wide range of issues. Drawing from extensive research in the industry and using her warm and engaging personality, Patty has become a noted expert in the fields of intimacy and relationships. Patty has been quoted in several magazines including Self, Women's Health, Glamour, Redbook, Men's Health, Details, US Weekly, In Touch and Life & Style.


---