How Role Play Leads to Better Communication
Learn how incorporating role play into your marriage can open up the door to better communication with your spouse.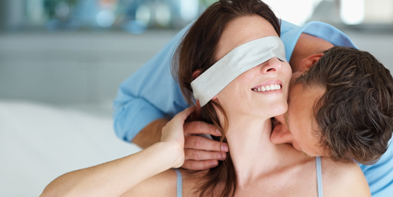 ---
"
Acting out fantasies and enabling ourselves to pretend to be someone else is one of the easiest things couples can do to keep their marriage from feeling or becoming stagnant."
The other day, I caught a rerun episode of ABC's hit television show "Modern Family" and was reminded of something that I've heard a lot about lately: The episode took place over the Valentine's holiday and one of the husband and wife couples, Phil and Claire, decided to spice up their evening by going to a local hotel and pretending to be their sexy alter-egos, who were just meeting for the first time. Of course, sitcom-worthy hilarity ensued and something that the rest of us normal folks would only pray never to have happen to us. But, in reality, they were partaking in something that couples do all of the time—role playing.

Acting out fantasies and enabling ourselves to pretend to be someone else is one of the easiest things couples can do to keep their marriage from feeling or becoming stagnant. Here are a few tips to get started:

If you, your spouse or the two of you are a little shy, role playing can help open the doors to feeling more confident with one another. Make it easy for your partner to ease into the situation. Don't conjure up some elaborate storyline or introduce some ridiculous costumes. Whether you're both a little timid or either one of you has reservations about the whole role playing scenario, it's best to start with something simple and easy for the two of you to advance the situation, which is your ultimate goal. If one of you is better with dialog, then that person should take the reins. Silence can be deadly.

If the two of you are more outgoing and have little inhibition about introducing role play into the bedroom, by all means go for the gusto. Remember, you are acting, and a good actor eases into the role and doesn't over-act to get the message across. Keep the dialog simple and make your moves accordingly.

You will also find that through your exploration of new situations and fantasies with your spouse, it will spark communication between the two of you. This process will also give you permission to say the things that you might have always wanted to say, but without any feelings of inhibition.

The best part about role playing is that there are so many things you can do that aren't just confined to the bedroom. Like they did on "Modern Family," you can go to a restaurant and pretend to be mysterious strangers meeting for the first time or you could even re-enact your own first encounter with your partner.

However you want to enact your fantasy is up to you, and in addition to providing you with a platform to discuss the kinds of situations that turn you on, you'll find that even an evening of role playing will open the door to better communication in the long run.

I guarantee that in the weeks and months following your role playing adventure, you will find yourself saying "Remember when we did this," or "remember when I pretended to do this…" and want to do it all over again.

So if you've always wanted to role play with your spouse, there's no better time to give it a try. Go ahead and explore new situations. I am certain that you'll not only have fun, but will re-ignite a few sparks as well.

Patty Brisben, is the CEO and Founder of Pure Romance (www.pureromance.com). For more than two decades, Patty has been educating and empowering women all over the country about sexual health and relationship enhancement. Today, Patty speaks, lectures and writes about a wide range of issues. Drawing from extensive research in the industry and using her warm and engaging personality, Patty has become a noted expert in the fields of intimacy and relationships. Patty has been quoted in several magazines including Self, Women's Health, Glamour, Redbook, Men's Health, Details, US Weekly, In Touch and Life & Style.


---