Why Genders Differ on Household Chores
Your husband is fine watching you do all the work, and a new study explains why. Use these 7 tips to help understand your significant other when it comes to housework.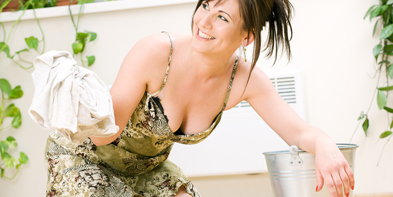 ---
Female stress hormones rise ominously when men donít pitch-in around the house. Male stress hormones rise when they do! According to a study conducted between 2004 and 2006 at the Center for the Everyday Lives of Families at the University of California, Los Angeles, measured cortisol levels are the best lie detector tests concerning shared household tasks when both sexes work outside the house. Apparently, women live on Venus and men need to get off Uranus!

The good news is that a quantifiable hormonal evaluation explains why his feet are up while she is doing laundry, cooking or helping the kids with their homework. Awareness and knowledge of innate gender differences can lead to equitable compromises and happy marriages due to self-acceptance, as well as mate-acceptance.

Since he needs a bit of quiet time to unwind from work, retreat inward as he compartmentalizes his duties, a woman can pick up the ball because she can multitask and multi-process. Then when he has relaxed a bit, he can take over the chores while she takes her turn to unwind.

The problem occurs when women behave like martyrs and become addicted to accomplishment, "Look what I can do," then resent it. Men donít usually read the emotional fine print of the female mind and so, he lets her keep on "doing" because he believes that she apparently likes it and is good at it. Many of her verbal hints and body language are lost on him. Until, of course, she withholds sex. But even then he might not see the correlation unless she explains it to him.

Here are some tips to make your home a safe haven and allow the two of you to focus on whatís important:



1.

Donít allow things to be done to you! Speak up and express what you really want.



2.

Donít place yourself last on the list. "I do for me" equals, "I do for us."



3.

Accept yourself and your spouse for the way they are. From this point, you can find a compromise. Donít ask them to change their nature. Be understanding and work with your spouseís strengths instead of focusing on their weaknesses.



4.

When your beloved is stressed, ask yourself, "What am I not seeing about the other side?"



5.

In a marriage, when one side pushes, the other side pulls away. Stop pushing so hard and your spouse will stop pulling away.



6.

Donít have a rigid time frame about getting things done. Not everyone works according to the same schedule. People have different energy cycles. Also, things donít have to be done "a certain way."



7.

If your spouse is abrupt, consider that he or she has their own stressors and work around it.

Debbie Mandel, MA is the author of "Addicted to Stress: A Woman's 7 Step Program to Reclaim Joy and Spontaneity in Life," "Changing Habits: The Caregivers' Total Workout" and "Turn On Your Inner Light: Fitness for Body, Mind and Soul," a stress-reduction specialist, a radio show host and has been featured on radio/ TV and print media. To learn more visit: www.turnonyourinnerlight.com.


---
---
---
Leave a Comment