After Lots of Sex, Husband Struggles to Perform
A wife worries that the amount of sex is preventing her husband from performing. Our sex experts explain the various reasons why he might be struggling to keep up (no pun intended).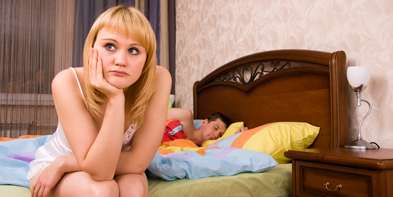 ---
"
Eating lighter, lower carbohydrate meals with more protein may work better for sexual performance."
When my husband and I have sex, it usually lasts about 45 minutes to an hour. We've been having sex every day, at least twice a day, and lately when we're doing it, I come a lot—sometimes up to 10 times. However, he loses his erection towards the end and cannot finish. We both love one another very much and cannot understand why this is happening. Could it be that he's losing the erection because we've been having sex everyday nonstop more than twice a day? What do you think? He's getting scared and I don't know how to help him. Should we go see a doctor or do you think we should take a break from having sex for a couple of days? Your help is appreciated. Thanks.

It is so wonderful that you and your spouse have such a wonderful and voracious sexual appetite! It is not every couple who could compete with you in terms of the frequency of your lovemaking and the number of orgasms that you can have. You are the epitome of the multi-orgasmic woman!

However, in regards to your concern for your partner's inability to keep his erection for as long as you want, it could be stemming from several places, none of which should be considered a problem.

All of us have our ups and downs, so to speak, in terms of our ability to keep an erection or the numbers of orgasms one can have during a love-making session. The performance stress alone is enough for him to get nervous and lose his erection. Let him know he is not letting you down if his penis heads south after 45 minutes.

We do not feel that you need to see a doctor, but please consider several factors that might affect his erection. You might want to think about your diet and if either or you had eaten a large, heavy meal before lovemaking. Maybe his body is trying to send blood to his stomach for digestion, rather than to his penis. Eating lighter, lower carbohydrate meals with more protein may work better for sexual performance.

We already spoke about stress and performance anxiety. Everyone makes a hormone called cortisol when they are stressed and that hormone fights his testosterone, which is needed for an erection. So, play a little more and relax: Alternate between hand/mouth play and intercourse to give his member a chance to catch up with you. Sometimes, watching a woman come will turn him back on and up he will go! You might even want to try some intensifying lubes when he starts to lose some of his erection to help him keep the maximum sensation for both of you.

We don't think that you need to take a break, unless one of you is sore from sexual activity. Is he complaining that he is not having as much fun as you are? Some men can orgasm without ejaculating, even multiple times. If he can maintain an erection for 45 minutes, he has incredible control! Ask him if he is having the feeling of an orgasm without the obvious ejaculation. It isn't the "squirt" that matters, it is all about the muscular contractions that accompany orgasm we feel that makes an orgasm official. Men can be multi-orgasmic too!

So keep doing what you are doing and just go with the flow. Sometimes it is fun to see how many orgasms you can have and how strong they are by different techniques and positions. Have fun and keep making that love!

Dr. Joni Frater & Esther Lastique are the founders of www.LoveHerRight.com and www.PassionateLifeClub.com and the authors of "Love Her Right: The Married Man's Guide to Lesbian Secrets for Great Sex!" Visit their college website www.SexEdBootcamp.com for more links and general sex ed information and for more information about their Love Warrior Challenge, live appearances, and seminar classes. At www.LoveHerRightStore.com use the discount code HITCHED for a 15% discount! To purchase their book, please click here (it has lots of great pictures with descriptions of fun positions to try).


---