Hitched: Celebrating 5 Years of Making Marriage Work
A thank you note from the editors of Hitched to all of you who have helped make it the No. 1 marriage resource on the internet.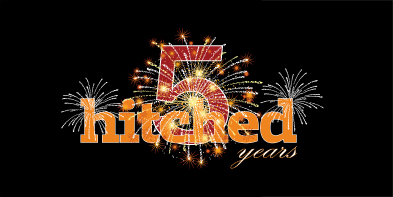 Illustration by Gabriel Lefrancois
---
"A marriage magazine? That will never work. People have tried and the public just doesn't respond to it. Good luck."

This was the general response when the idea for Hitched magazine was introduced to print media industry professionals back in 2000.

Maybe for us this was a blessing in disguise: It costs a lot of money to start a magazine and the print media market was and is in a major decline. Maybe those "industry professionals" were right. Maybe we should just call it a day and try something else.

So five years ago we did. We turned to the web, carrying many of the ideas from our print endeavor to hitchedmag.com and went live with a simple mission: "Entertain, Educate and Inspire Marriages." And for those last five years, we've done our best to make every marriage stronger, happier and more resilient to the negative connotations that usually paint it as a failing institution.

Now, we could sit here and rattle off marriage statistics or tell you the story of how two childhood friends would lead near parallel careers and lives. Or how a passion for service-minded journalism would help separate and elevate hitchedmag.com above any other marriage- or relationship-related publication in either print or on the internet. However, this five year anniversary isn't about the late nights spent putting it all together, the disagreements over issues which now seem trivial, or about the countless non-paid hours we've put in, or the sacrifices we've made in our own lives to keep Hitched going and growing.

No!

It's about the people who believed in us.

We'd like to thank the family members who believed in us and gave us start-up money when we were fresh out of college with a big idea and passion. We'd like to thank the "other," supportive industry professionals like Rieva Lesonsky who saw the dream and ambition to make something happen and provided guidance to a couple of young and sometimes naïve infants in a large industry; and designers extraordinaire David Matt and Robert Perino who designed the print version of Hitched.

Then, there is the core.

People like Dr. Karen Sherman, Dr. Scott Haltzman, Dr. Trina Read and Diane Gottsman, who submitted content to a completely unknown website with a simple mission statement. Journalists like Sarah Pierce, Sara Wilson, Francine Kizner, April Pennington, James Park and more that took time to write articles and brainstorm new ideas that helped us build a foundation. Photographers like Kaia Lai and John Dalog who shot pictures when stock photos just wouldn't cut it. And of course there are countless others who have supported us throughout the years including, Wendy Strgar, Dr. Terri Orbuch, Nichole Torres, Lynne Z. Gold-Bikin, Dr. Brian Parker, Sharon Rivkin, Al Jacobs, Cheryl Tallman, Patty Brisben, Jenna D. Barry, John Sileo, Dr. Michelle Gannon, Mary Chatman, Kristina Johnson, Dr. Joni Frater, Esther Lastique and many, many more who helped make hitchedmag.com what it is today: The No. 1 resource and lifestyle online publication for married couples.

Lastly, there are you… the readers. Normal, everyday people that want to keep their marriage fresh and alive. The everyday people that write us letters asking for advice on common and uncommon situations that can arise in sharing a life with another. The people that feel stuck, but want to give it one more shot; the people who are content, but feel their marriage could use some ideas to liven things up. The advice you share with us and the advice you take away and apply with positive results is why we do what we do.

Looking back, there were a lot of situations and events that could have made us throw in the towel. But instead, we stuck with it because we wanted to make it work and this is our passion and our calling. We married our craft and we would do anything to keep it alive and well. Five years ago we knew, deep down, that providing a (previously) non-existent one-stop destination for marriage advice would help more people than any other form of service journalism we would have the opportunity to engage in.

It's been five years. Our marital endeavor is young and who knows what lies ahead? Okay, we have a few ideas we're working on! This has been more fulfilling than we could have ever imagined and we're ecstatic that we're just getting started.

A toast, "To our five year anniversary, THANK YOU!"


---
---
---
Leave a Comment