How Make-Up Sex Can Deliver Sexual Healing
You're bound to have arguments in marriage, use these tips to turn a negative into some sexual healing.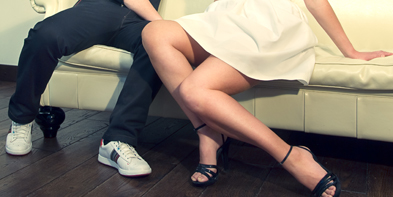 ---
"
We fear that the intimacy of sex may weaken our defenses where our partner is concerned and restore that silly smile on our faces when what we really want is to maintain a fierce scowl."
I usually embarrass my youngest son, now 17, to no end by telling him that he was a "make up sex" baby. I donít exactly recall what the argument was about, but if I remember correctly I was more than a bit miffed at my husband when we went off to bed that night. Since I donít hold grudges very well, it wasnít hard to let the magic take over. So when the doctor told me a couple of months later that baby number three was on its way, my husband and I just exchanged those knowing glances. I think we both knew exactly when that conception had occurred. Now, I am not advocating a have-a-baby-every-time-you-fight philosophy? Heavens no! But there is something to say for the power of sexual healing and great make up sex in a relationship.

In a relatively healthy relationship where the occasional argument or even major disagreement is expected, the sex life should not be put on hold simply because you and your spouse canít see eye to eye. The thing about sex is that we fully understand how intimate an act it is. As a result, when we become angry and want to hold on to that anger or resentment, we naturally want to withhold sex because thatís a sure-fire way of us maintaining that anger. We fear that the intimacy of sex may weaken our defenses where our partner is concerned and restore that silly smile on our faces when what we really want is to maintain a fierce scowl. Sex does have that power to expose our vulnerabilities and change our mood; and couples need, therefore, to learn how to maximize on this.

Does this mean that we canít have "angry sex?" Actually we can and often do. But even when the act begins in anger, which may actually increase passion, this can be quickly altered as we descend from the figurative mountain-top of a great climax. Some researchers readily admit to the fine line between anger, passion, arousal and the release of endorphins, which are a vital part of great sex. While we are in no way promoting an idea of using passion as a form of escapism, agreeing to sex while still angry may actually be a way of encouraging us to be more honest, open and assertive in our marriages.

Itís likely that for those of us in long-term relationships, make up sex will play some part. The sensitive nature of sex should nonetheless encourage us to play by a certain set of rules or principles, for the overall benefit of the relationship. Here are a few to follow and consider:



*

Sex should never be forced on either spouse if it isnít desired by both; itís imperative that the wishes of each partner are respected.



*

Sex should never be used in itself as the solution to a problem; rather its mood altering properties should be utilized as the gateway for open and honest communication about all those things that have gone wrong in the relationship.



*

Couples should honestly examine their relationship for repeat-patterns which may hint at some relationship dysfunction; something may be deeply wrong if the only way a couple can get-off sexually is to stage a fight.



*

Make-up sex can be used as a way to strengthen sexual assertiveness. Partners can become adept at communicating what they really want sexually because the disagreement that sparked the romp has already lowered their defenses or their sense of inhibition.



*

Sex should never be used to control or manipulate a partner into doing what he or she may not want to do, especially when this difference of opinion is what started the disagreement in the first place.



*

Wives can use the occasion of an unnecessarily drawn out argument as a way to hone and sharpen their skills of seduction. Most husbands canít resist a sexy get-up and a hot "come hither" look, no matter how bothered they are.



*

Make-up sex should be allowed to "work on our minds" and do its magic. In other words, it should serve as a powerful reminder of why a couple is together in the first place. It not only has the power to spark the memory of our early, passionate, sexual encounters, but it can serve to remind us that this person, with whom we occasionally argue, is indeed someone worth fighting for. This realization is enough to start us on the path to (sexual) healing.

"Denise J Charles" is an educator, counselor, relationship-coach, published author and blogger. She holds a Masters Degree in Education and is a qualified trainer-of-trainers. Denise is Executive Director of "Better Blends Relationship Institute", a counseling and training entity founded by herself and her husband Gabriel. Deniseís blog on sex can be found "here". Deniseís soon to be released new book is "How To Have Mind-Blowing Sex Without Losing Your Brain".


---