Borat's Very Niiice
Borat's adventure, Stephen King's take on marriage and the growth of a legend.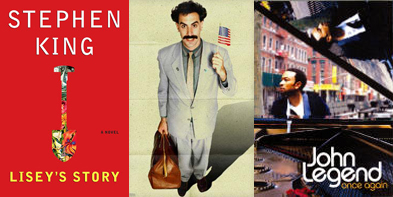 ---
READ
Lisey's Story
Stephen King
www.stephenking.com

Stephen King proves he can master just about any literary genre with his latest novel, Lisey's Story, a haunting romantic thriller about a wife coming to terms with her husband's death. Lisey's husband, Scott, has been dead for two years, yet she still feels his haunting presence everywhere she goes. When her catatonic sister begins speaking to her in Scott's voice, Lisey begins a terrifying journey into rediscovering the man she was married to for 25 years and the horrifying childhood she never knew he had.

WATCH
Borat: Cultural Learnings of America for Make Benefit Glorious Nation of Kazakhstan
Sacha Baron Cohen
www.borat.tv

Despite the protests of nearly an entire nation, Sacha Baron Cohen's highly anticipated—and highly controversial—movie finally hit theatres this weekend. Borat: Cultural Learnings of America for Make Benefit Glorious Nation of Kazakhstan, is the outrageous mockumentary that follows a Kazakhstan reporter, Borat Sagdiyev (Cohen), to America on his search to uncover what makes the United States one of the greatest nations in the world. Along the way, Borat interviews real people unaware that his "documentary" is fake, and offends just about everyone with his extremely anti-Semitic, politically incorrect statements. The hijinks he gets into are hilarious, but what's even more hilarious is that his victims are unaware that Cohen himself is actually Jewish. Borat reveals Americans' unspoken prejudices in such a smart way that although you find yourself laughing to near tears, you also find yourself shocked at how far we still have to go to break down prejudice stereotypes.

LISTEN
Once Again
John Legend
www.johnlegend.com

John Legend burst into the R&B scene nearly two years ago, proving "Legend" is more than just a last name by winning a Best New Artist Grammy and the hearts of critics and fans alike. Now he's back with a little help from his friends, the unstoppable Kanye West and Will.i.am., who also helped produce his first Grammy-winning album. Once Again is the same cool R&B stylings Legend is known for, with a few experimental sounds that prove Legend is more than just a one-trick pony.


---
---
---
Leave a Comment