Adding a warm cup of delicious soup to your holiday menu can help to stimulate the appetite without filling you up. Homemade soups are a great way to kick off your holiday meal, and they make great leftovers for a light lunch. And while pies are the norm at the Thanksgiving table, starting your own tradition with a unique dessert can create a memorable finish with annual requests for more. Delight in the flavors of the season with these yummy recipes.



Butternut Squash and Roasted Garlic Soup



The bright orange color of butternut squash is a seasonal addition to your holiday meal. For families with babies over 8 months old, this soup can be easily made into baby food by thickening it with mashed rice, potato, or baby cereal.

Ingredients:
1 Large or 2 small butternut squash (4 lb)
20 garlic cloves, peeled
2 tbsp. olive oil
1/4 cup water
4 cups (32oz.) chicken broth
1 can (12oz.) coconut milk or 1 cup half & half
1 tsp. tarragon
Salt and pepper, to taste
Zest of 1 lemon, finely grated
Chives or parsley, chopped as garnish (optional)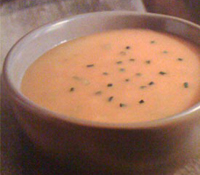 Directions:
Preheat oven to 350° F. Cut the squash in half lengthwise and remove seeds and fibers. Using a vegetable peeler or a paring knife, remove the skin from the squash and cut the flesh into 1-inch thick slices.

In a roasting pan, combine the squash and garlic cloves. Sprinkle with salt and pepper. Drizzle with olive oil and toss with a spoon until well coated. Pour in the water. Roast, stirring occasionally, until the squash and garlic are soft and golden, about 50-60 minutes. Add a bit more water if the squash begins to look dry or scorched. Remove from the oven and set aside to cool slightly.

Combine roasted squash and garlic with 2 cups of the stock in a blender or food processor. Puree until very smooth, about 1 minute. (You may need to work in batches to prevent overflowing the blender). Transfer the puree to a large soup pan. Stir in the remaining soup stock, coconut milk (or half & half), tarragon, and lemon zest.

To serve, warm soup thoroughly and ladle into soup bowls. Sprinkle with chopped chives or parsley.

Makes 8 servings

*Note: Can be made 1-2 days ahead of time and stored in the refrigerator or frozen up to 2 months.



Soft Pumpkin Cookies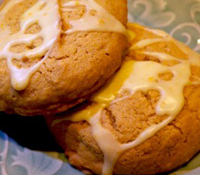 A nice alternative to pumpkin pie, these soft cookies are a delightful treat. The little ones can help with this easy recipe. Make them in advance and freeze them to seal in freshness. The cookies will thaw in one hour at room temperature. You are sure to create smiles with this dessert.

Ingredients:
2-1/2 cups flour
1 tsp. baking soda
1 tsp. baking powder
1 1/2 tsp. pumpkin pie spice
1/2 tsp. salt
1-1/2 cups granulated sugar
1/2 cup butter (1 stick), softened
1 cup canned pumpkin
1 large egg
1 tsp. vanilla
Orange Glaze (recipe follows)

Directions:
Preheat oven to 350° F. Grease baking sheets.

Combine flour, baking soda, baking powder, pumpkin pie spice and salt in medium bowl. Beat sugar and butter in a large mixing bowl until well blended. Beat in pumpkin, egg and vanilla until smooth. Gradually beat in flour mixture. Drop dough by rounded tablespoons onto prepared baking sheets.

Bake 15 to 18 minutes or until edges are firm. Cool on baking sheets for 2 minutes; remove to wire racks to cool completely. Drizzle Orange Glaze over cookies.



Orange Glaze:


Combine 1-1/2 cups sifted powdered sugar, 2 to 3 tablespoons orange juice and 1/2 teaspoon grated orange peel in medium bowl until smooth.

Makes 20 cookies.



Fall Favorite Potato Hash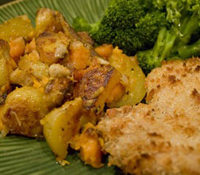 As a distant cousin to the potato, sweet potatoes have a flavor all their own, plus vitamin A and beta-carotene for added goodness. Try cooking with a combination of potatoes for a comforting winter meal. Here's a simple hash recipe using Yukon Gold (yellow) and sweet potatoes.

Ingredients:
1 lb (about 10 small or 5 medium) Yukon Gold potatoes, diced
1 large or 2 medium sweet potatoes, peeled and diced
1/2 large sweet onion, diced
4 oz. package Shitake mushrooms, stems removed and sliced
3 tbsp. cooking oil
1/3 -1/2 cup chicken or vegetable stock
Salt and pepper, to taste

Directions:
Heat cooking oil in a large non-stick sauté pan over medium-high heat. Add potatoes, sweet potatoes, onions and mushrooms. Sprinkle with salt and pepper. Using a wooden spoon, toss the mixture to coat it with the oil.

Add the stock to the mixture and bring to a boil. Cover and cook until potatoes are done, about 7 minutes. Remove the lid and test potatoes with a fork. They are done if the fork slides easily into the potato.

Continue to cook with the lid off over medium-high heat about 7-10 minutes. Toss gently 1-2 times with a wooden spoon. Any liquid in the pan will evaporate and the potatoes will begin to brown and crisp around their edges. Serve hot.

Makes 6 servings.

Cheryl Tallman is the co-founder of Fresh Baby, creators of the award-winning So Easy Baby Food Kit, and author of the "So Easy Baby Food" and the new book "So Easy Toddler Food: Survival Tips and Simple Recipes for the Toddler Years." Visit Cheryl online at www.FreshBaby.com for more delicious tips.