How to Inject Marital Spice Into the Holiday Season
Use these simple tips to help spice up the holiday season with your spouse.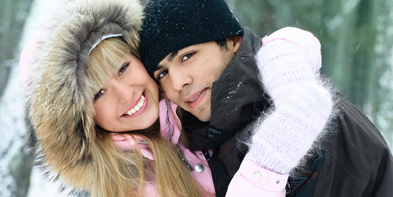 ---
"
I realize everyone may not be into thong underwear, but thatís just it: be different, be bold and be creative. Shake things up with a little spice."
Christmas is just around the corner, and the weather is getting colder across the country. Itís about time for you and your spouse to have fun and get a little closer for the holiday season.

Have you ever given your spouse a romantic gift for Christmas? You could go all out or keep it simple. Whatever you decide, make sure itís fun and creative. Romance is usually aroused during festive occasions like Valentineís Day, New Yearís Eve and Christmas day. Look for romantic ways to express your romantic feelings that will have a significant impact on the love of your live.

Creating memories together gives you something to draw from and keeps things exciting. Ladies, have you ever mailed your husband a pair of thong underwear with a note that says, "Wait until you see me in these!" Or how about, "I canít wait to wear these for you." I realize everyone may not be into thong underwear, but thatís just it: be different, be bold and be creative. Shake things up with a little spice. Trust me, men that truly love their wives they donít care what you look like in a thong; they care about the fact that you are focusing on them, and giving them attention.

Focus on arousing their senses and getting outside of the box. Even if you donít send a thong, send a new pair of sexy panties, it will have the same affect. Guys, please do the same thing for your wife. Be sure to include a steamy note like, "I canít wait for you to take these off of me," or "Tonightís the night."

Itís almost the end of the year why not let the romance fly in the sky. Youíve been working hard, taking care of the kids, been on long commutes, running errands and doing chores. Let the holidays bring cheer into your life together like never before. Bring your sexy into shopping for the kids, wrapping, planning meals, and even cooking together. While youíre out shopping, make passes at each other and hold hands as you window shop for your favorite finds. Steal kisses and have a glass of wine while wrapping presents.

If you have children, of course you are going to bake cookies with them. You can also save one of your favorite recipes for just the two of you to prepare and bake. This will make for a little extra sexy fun after the kids are in bed or away spending the night with family or friends. Chocolate chip cookies would be a good one to save for later. Chocolate is an aphrodisiac and pairs well with wine and cheese.

Donít forget to check your local listings for festivals and concerts. This is ideal for a romantic outing together. Itís essential to look your best for each other and use this opportunity to impress each other. If you do it naturally, then looking your best will be a piece of cake.

We all have a kid inside of us. Youíre not too old to take a drive around looking at Christmas decorations while listening to your favorite tunes playing. Go on a date outside of you area, hold hands and pull over to take time out for a little smooching and reminiscing.

Make time on the weekends for playing games together. The game of Twister will never go out of style, and it is such a fun, sexy, romantic game. A lot of touching and entangled body parts makes for an evening that is sure to infuse romance into your lives. If you simply want to chill together you can always sit back, light a fire and read romantic quotes to each other. Sharing quotes with powerful insightful that are meaningful is very romantic. Sensual poetry books will work as well, and can be found in your local library.

There is a ton of ways to have fun during the holidays. Keep the sparks flying and the romance alive by being creative and thinking outside of the box. As a romance writer and hopeful romantic, oh and yes Iím a marriage advocate, plus I play cupid for a living, people tell me all of the time (especially during our consultations) that they are bored. They want to use my Love Life Designs service to help rekindle the flames or simply do to something different. Spending quality undisturbed time together is a beautiful thing and can add years to your marriage if done right. Thereís only one right way and itís really simple, donít think too hard about itÖ just do it!

Mary Chatman is a romantic decorating specialist and founder of Love Life Designs, LLC, a romantic decorating and design firm facilitating Atlanta, Los Angeles and New York City. Mary is also a romance and marriage advocate. She has been featured on CBS Better Mornings, Good Day Atlanta, and Every Day with Marcus and Lisa. Mary is also a relationship and romance writer for blackbride.com. For more information about Love Life Designs, LLC or to add romance to your abode, visit www.lovelifedesignsllc.com .


---