How to Choose the Right Family Car
Buying a new car can be a stressful endeavor and a lot to think about. Use these tips to choose a car thatís right for your family.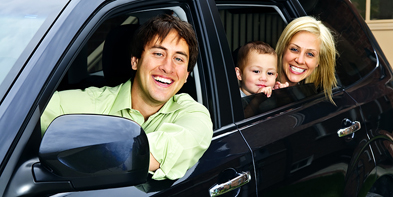 ---
"
One of the worst offenders for families when it comes to both comfort and convenience is a two-door vehicle."
Whether youíre preparing for your first bundle of joy or your fifth, many changes come with each addition to the family. Modifying your mode of transportation may be on the top of the list. As you embark on your family car search, remember thereís more to a car than just the number of seats it contains.

We contacted dealer insider, editorial contributor and father of two, Ed Armbruster, for his suggestions on the family-car-shopping process.

"It just so happens that Iíve recently made the switch to a family car, from a sport-utility," Armbruster said. "Making the switch, I had to keep in mind what I needed out of my vehicle. Changing from a seven-passenger SUV or van to a sedan changes the game a bit. The fact that my wife still has a large SUV made the switch a little easier. This makes driving on field trips, or taking a carload of friends to the movies doable."

We compared notes with Armbruster on what shoppers should consider first and came up with this list:



Budget



First things first: What can you afford? Determine what your budget will comfortably allow, as far as a monthly payment or purchase price is concerned. Settling on an exact number will help you decide if youíre looking to buy a new car, lease a new car (typically with a lower monthly payment than buying a car) or purchasing a pre-owned vehicle. Keep in mind, if youíre going from a paid-off vehicle to a brand-new vehicle with monthly payments, your insurance costs will go up until the new car is paid in full.

Armbruster acknowledged price was a factor in his recent purchase too. "With the economy the way it is, price was a concern. A new car was out of the question. Many of the cool European station wagons and sedans were too. The only way to keep the payment down on a fun Euro-cruiser was to buy something six- to seven-years-old, with a lot of miles."

Making concessions is part of the car-shopping game for anyone who doesnít have access to an unlimited amount of cash. Donít waste time feeling bad about what youíre not getting. Instead, move on to the next step in the narrowing-down process and focus on what you can get.



Safety



Safety is a given when toting precious cargo. Due to safety regulations, all new cars come pretty well-equipped with standard safety features today, but there are still a few that outshine the rest of the pack. The Insurance Institute for Highway Safety publishes a list of all vehicles that achieved a "good" rating in all four of its test categories.

For Armbruster, side-curtain airbags and solid crash-test ratings were his must-haves. Other features that increase safety include stability control, traction control, antilock brakes, increased use of high-strength steel in the vehicle frame, blind-spot notification systems, lane-departure warnings and adaptive cruise control.



Fuel Efficiency



Today, gas prices fluctuate more than your teenagerís moods. If your commute is minimal, fuel economy may not be your top priority, but for the rest of us, those gallons can add up quickly. Thanks to new fuel-economy regulations and consumer demand, manufacturers are now more focused on developing efficient vehicles than ever before. In addition to new plug-in electric vehicles that donít use any gas at all and hybrids that combine gas-engine and battery power, there are also plenty of gas-powered cars out there achieving 40 mpg or more.

Here are some of our fuel-efficiency favorites:

* Chevrolet Volt
* Nissan Leaf
* Toyota Prius
* Ford Fiesta
* Honda Civic
* Chevrolet Cruze

The Department of Energy and the Environmental Protection Agency have also compiled a list stating the fuel efficiency of every 2012-model-year vehicle.



Comfort and Convenience



Comfort is subjective and depends on how much time you spend in the car and how particular you are. Convenience, on the other hand, is something every person, especially a parent with a harried schedule and hands full of everything, can appreciate.

One of the worst offenders for families when it comes to both comfort and convenience is a two-door vehicle. Schlepping infant seats (and their occupants) in and out of that tiny space between the back of the front seat and the body of the car can cause serious injury, as well as the occasional bout of rage. We donít recommend two-door cars for families with infantsówait until all of the children in your crew are capable of operating the seatback, hopping into the backseat and buckling up completely on their own.

Armbruster sought interior and cargo space. "Interior room because families with small children have to use car seats. These require extra rear-seat legroom. This proved to be the hardest feature to find in a passenger car. Even some medium-size sport utes are lacking in rear legroom. Also, the rear seat had to be wide enough to accept three car seats if needed--another hard-to-find feature," Armbruster explained.

"Trunk space is crucial too. As a parent with small kids, the stroller test is a big one. A car that cannot accommodate my double stroller simply will not work. This alone had me looking at station wagons," Armbruster added.

Some comfort/convenience pleasers:

* Honda Pilot
* Toyota Sienna
* Buick LaCrosse
* Nissan Quest



Style



We completely agreed with Armbruster's recommendation on this front: "Donít ever convince yourself buying an ugly car is the only practical solution." If youíre one of those people who copped an attitude against the minivan while you were still a passenger in your parentsí modelófear not, there are options.

"On this purchase, I insisted on loving the looks of the car I bought," Armbruster said. "My last car was cumbersome and entirely too practical. I was looking for something that I could take the family on a weekend trip with, but also pull up to the valet on date night and be able to look the attendant in the eye!"

Here are a few cars we recommend that meet safety, comfort and style requirements:

* Nissan Juke
* Chrysler 200
* Ford Focus
* Mazda 5
* Audi A3



Performance



Weíve promised style doesnít have to take a back seat to safety, comfort and convenience, and neither does performance. When Armbruster decided on the 2009 Pontiac G8 GT as his new family sedan, performance was definitely part of the appeal. "With 30,000 miles, it is still in factory warranty, it fits the double stroller, the car seats have plenty of room, and it drives like a Corvette with four doors. I'm very happy with my purchase."

There are several cars that pack power, as well as all the practical stuff. Here are some of our favorites:

* Mazda Mazdaspeed 3
* Nissan Juke
* Mitsubishi Lancer Sportback Ralliart

Sure, it's a lot to think about, but your next car could be with you for years; and taking the time to do your research will ensure many happy miles cruising together.

Sherrice Gilsbach is an associate online editor for shopautoweek.com, an authoritative online resource for anyone researching a new, used or certified pre-owned vehicle.


---
---
---
Leave a Comment