Tips for Keeping Teen Drivers Safe During Winter
Donít leave your teen unprepared this winter. Use these tips as a guide to keep them safe.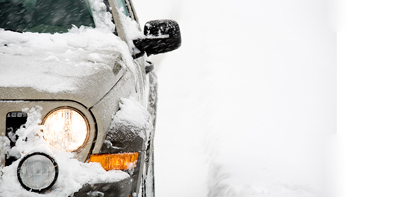 ---
"
If the locks freeze, heat your key with a pocket lighter or fill a jug with hot water and then place the jug against the lock."
New drivers are at an increased risk of being involved in a crash. Winter months present new obstacles like snow- and ice-covered roads that add to the learning curve. We spoke with representatives from the American Automobile Association (AAA), the National Highway Transportation Safety Administration (NHTSA) and Ford's teen-focused Driving Skills for Life program to compile tips for keeping your teens safe on the roads this winter.

While your first instinct may be to locate a driving school that specializes in teaching teens how to maneuver a vehicle in wintry conditions, these are few and far between, and many are expensive and require travel. Instead, take the time to get your teen acquainted with driving on slick surfaces before he or she heads out alone.

"Parents often step in and get behind the wheel when that first snow falls, rather than give their novice driver the opportunity to learn in those conditions," explained Jack Peet, traffic safety manager for AAA. Consequently, often the first time these young drivers experience snowy roads is when they are driving without parental supervision (and the advice and direction that goes with it).

So, after the next snow fall, drive your teen to a big empty parking lot or open space and let him or her try stopping, starting and turning at safe speeds in a safe environment.

Here are some more tips from our experts:



Prep the Car


Make sure the battery is charged and ready. Cold temperatures can deplete an already-drained battery and leave your teen stranded. Stopping is difficult, if not impossible, on ice and snow. Give your teen a leg up with good brakes.

If nasty weather is approaching, AAA recommends placing a plastic bag between your car door and the frame of the car to keep the door from freezing shut. If the locks freeze, heat your key with a pocket lighter or fill a jug with hot water and then place the jug against the lock. Do not pour the hot water onto the lock because it could freeze.



Driving Do's and Doníts




Do

slow down: Snow- and ice-covered roads are tricky to navigate and can appear with little warning. Be prepared by reducing your speed.



Do

give yourself breathing room. AAA recommends leaving a distance of 200 feet or 15 car lengths between yourself and the vehicle ahead of you. To demonstrate this with your teen, provide an example on the road (point out a sign or other roadside feature that is the proper distance away).



Do

apply brakes slowly when stopping. Slamming on the pedal can cause the car to spin on slick surfaces.



Donít

cut off big trucks! They cannot stop.



Donít

use cruise control. While using cruise control is a good way to regulate your speed, you donít want to use it when snow or rain is falling or when temperatures are at or below freezing. If the car slides, cruise control will attempt to speed up, which could cause an accident.



Donít

hit the road without clearing snow and ice off of the windows and lights. Start the car early and let it warm up to melt off the excess or brush up on your scraping skills.



Donít

take friends along for the ride. Ford's Driving Skills For Life teen-driving-safety program reminds us that by adding one passenger in a teenager's car, their chances of being involved in an accident double.



Don't

forget to print this list and share it with your teen. Teens may think they know it all, but many teens are still nervous about driving and will welcome the help.



Do

what you can to build your teen driver's skills and his or her driving confidence. As an added benefit, you might even decrease your stress level.

Sherrice Gilsbach is an associate online editor for shopautoweek.com, an authoritative online resource for anyone researching a new, used or certified pre-owned vehicle. For their full list of winter driving preparation tips, click here.


---
---
---
Leave a Comment