More Reasons to Schedule Sex: The Power of Anticipation and Resolving Radically Different Libidos
In an excerpt taken from her new book, Dr. Jen begins to create a power plan to help women work a solution for a different libido than their spouse.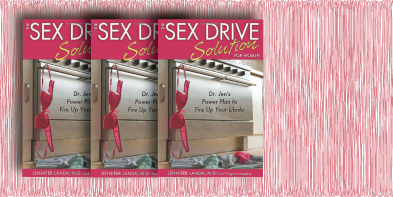 Atlantic Publishing Group, Inc.
---
"
Some men feel as though, along with having a bowel movement and brushing their teeth, they need to ejaculate daily."
The following is an excerpt from "The Sex Drive Solution for Women: Dr. Jen's Power Plan to Fire Up Your Libido"

One of the best aspects of planning sex is the element of anticipation. Try sending text messages ("I can't wait for our date tonight!" or something more suggestive) or planning the evening so that it can include an elegant meal and a bubble bath.

Scheduled time for lovemaking helps women to clear the decks of other concerns and to bring their focus to romance. Sex on a schedule helps men who take drugs for erectile dysfunction (ED) to plan the use of their medication.

A sex schedule that works for both partners can help resolve the issues that arise when one partner wants more sex than the other: the higher-libido partner asks and is rejected again and again, and may just give up; the lower-libido partner finds herself repeatedly rejecting and feeling guilty—or begrudgingly having sex she doesn't want and trying to get it over with as fast as she can.

Having unwanted sex creates anger, distrust and resentment, and may end up cultivating an outright aversion to sex in the lower-libido partner. (Most often, it's the male partner who wants more sex, although sometimes the reverse is true.)

Some men feel as though, along with having a bowel movement and brushing their teeth, they need to ejaculate daily. They may feel that the only acceptable way to achieve this is through intercourse.

Most women are unlikely to want to keep up this pace, especially in midlife and beyond. Sex that is a purely a vehicle for ejaculation is usually brief and rarely satisfies the female partner in any significant way—by the time she's really ready, it's over.

A man with this need can find other ways to address it besides intercourse. He can masturbate either by himself or in the presence of his partner (the latter, without asking her to get involved beyond kind, loving attention). If she wants to help him satisfy his need, she can do so with oral sex or by giving him a hand job (bringing him to orgasm with a lubricated hand).

Couples who have this dynamic should be careful to communicate as openly and honestly as possible. The female partner should only "help out" when she truly wants to.

Leading sexpert Jennifer Landa, MD, is the Chief Medical Officer of BodyLogicMD and author of "The Sex Drive Solution for Women." Dr. Landa is board certified by the American Board of Anti-Aging and Regenerative Medicine and serves as an advanced fellow in the Fellowship for Anti-Aging, Regenerative and Functional Medicine.


---