Wine Tour: Skinner Vineyards & Winery
After seven generations, this winery in the Sierra Foothills of California is putting the worlds most planted varietal, Grenache, on the U.S. map.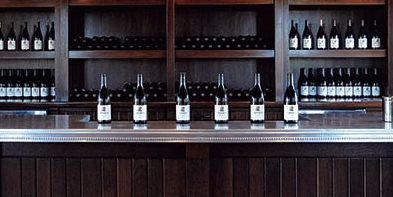 Liza Gershman Photography
---
"
Grenache thrives in warm and dry climates with indirect sunshine and well draining soils."
In 1852, an ambitious young Scottish immigrant named James Skinner discovered the unvarnished beauty of the Sierra Foothills—along with an ideal climate in which to grow Rhône varietals. In less than ten years, he established one of the first commercial wineries in Fair Play, California, a family business that thrived well into the early 1900's.

One hundred and fifty years—and seven generations— later, James's great-great-great-grandson Mike and his wife Carey set out to bring Skinner wines back to the Sierra Foothills. With their inaugural release in 2007, the Skinner family restored a legacy that is not only a part of a rich family heritage, but also California's early winemaking history.

As it turns out, James Skinner was ahead of his time. Whether it was intuition or simply good luck, he planted Rhône grape varieties including Grenache and Carignane. Today's generation of Skinners sees Grenache as having tremendous potential in the region. Grenache is the most widely planted varietal in the world, found primarily in Spain and France. However, in California, it is relatively unknown, and covers only about 8,500 acres. Only in the last decade or so has there been an emphasis towards premium wines, pioneered by a handful of small wineries, known collectively as Rhône Rangers.

"We are very excited about Grenache, both as a single varietal wine and as a core component in our blends," Winemaker Chris Pittenger explains. "Our 2010 El Dorado Grenache is composed of several clones from four regional vineyards including our two estate sites. And our Eighteen Sixty-One red blend is primarily Grenache."

Chris contends that the winery's success with Grenache lies in its terroir. "Grenache thrives in warm and dry climates with indirect sunshine and well draining soils," he says. "Similar conditions are found on our two estate vineyards. Our decomposed granite soils are unique to the region of Fair Play and allow us to reduce the vigor of the vines and focus flavors. Other Rhône varieties love this terroir too. We've planted Mourvèdre, Syrah, Grenache Blanc, Viognier, Counoise, and Picpoul Blanc." These other varieties are showing great promise as well. In fact, Jon Bonné, wine editor for The San Francisco Chronicle, named the 2010 Skinner Grenache Blanc as one of the Top 100 Wines in 2011.

Skinner employs sustainable practices across its estate vineyards and extends this philosophy into the winery, which was designed with many eco-friendly features. The building is solar powered, was constructed using 80 percent recycled steel, and includes many energy efficient elements throughout the facility.

The "must-visit" tasting room was patterned after the original winery building from the 1860s. It offers panoramic views and ample patio space for guests to stretch their legs, pull some corks, and enjoy a picnic. The Skinners consider it a pleasure and privilege to share their wines—and mountaintop "home"—with visitors. Every vintage reflects the family's passion, dedication, and craftsmanship, while paying homage to the pioneering spirit of James Skinner, who started it all in 1861. In every glass, the past meets the present, and the present honors the past.



WHAT TO BUY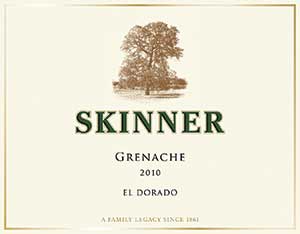 '10 Grenache Blanc - $22


Nashi pear, Honeycrisp apple, hints of citrus, melon rind



'10 Rosé - $18


Strawberry, cherry, white flowers, vanilla, orange marmalade



'10 Grenache - $26


Dried cranberry, fresh fig, sage, clove, anise, nutmeg



'08 Eighteen Sixty-One - $30


Black cherry, ripe strawberry, Asian spice, forest floor



CONTACT


530.620.2220
info@skinnervineyards.com
skinnervineyards.com



TASTING


Tasting Room Open Sat–Sun 11–5 or by appointment
8054 Fairplay Rd
Fair Play, CA 95684



SPECIAL NOTES


Private tastings and tours by appointment, spacious picnic patio for patrons, spectacular scenic view, wine club events, winemaker dinners

Touring & Tasting is a media company that produces a wine and travel magazine and is also partner in the Hitched Wine Club.
---
Also recommended from Hitched
---
Leave a Comment