Flying the Unfriendly Skies
Holiday travel woes are here again.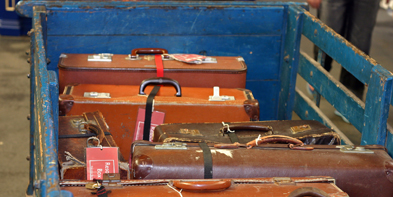 ---
Longer lines, more lost baggage, an increasing chance of delayed flights; the most wonderful time of the year? Maybe not.

Elizabeth Rizzo, 28, and her husband, Jordan Lord, 29, are flying home for Thanksgiving to be with Jordan's family, and although it's uncertain how that will go, one thing is for sure—Rizzo and Lord will not be looking forward to traveling. "We've pretty much have just come to expect issues to arise when we travel now and we consider it a miracle if we make it to and from our destination with no delays or lost luggage!" says Elizabeth. She says that if she and Jordan could drive instead, they would, but unfortunately it isn't an option.

New numbers released by the Department of Transportation earlier this month show that this holiday season may not be so cheery for many flying home to be with their family. The stats are certainly somber, with U.S. carriers posting a mishandled baggage rate of 8.25 for every 1,000 passengers in September, which is up from 4.56 per every 1,000 passengers from one year ago. On-time rates for the nation's top domestic carriers were down as well, with the airlines reporting an overall on-time arrival rate of 76.2 percent in September, down from 82.7 percent last year.

According to a recent article in the New York Times, the higher number of misplaced baggage can be attributed to the higher number of checked luggage, especially after the recent ban on most carry-on liquids. The flight's are also a little more boring since airlines are removing their complimentary magazine, which they say saves $3 million in fuels costs per year, according to a USA Today article.

CheapTickets.com says the top Thanksgiving destinations for this year are Atlanta, Chicago, New York, Washington D.C. and Denver. Couple that with the Department of Transportations report that says the most frequently delayed flights are from or to New York, Washington, and Atlanta and you start to get the picture about what this year's holiday travel scenario will look like.

AAA is anticipating a particularly busy holiday season this year, estimating that 38.3 million Americans will travel 50 miles or more from home, which is a 2.7 percent increase from last year's 37.3 million travelers; 12.5 percent of those travelers will be flying, which is up 3.2 percent from last year.

Margaret Mitchell, a former flight attendant of 16 years, says that she typically avoids flying during the busy holiday seasons. "Many people who fly during the holidays do not fly any other time of the year. Because they are typically uninformed, lines move slower. Combine this with the liquid/gel issue and it could be worse," she says.

Attorney Jeff Isaac says that travelers should practice caution when checking bags this year. "Legal recourse for mishandled baggage claims is largely futile in light of the large number of airline tariffs, albeit listed in the fine print on the back of an airline ticket that usually go unnoticed or unread by travelers," he says.

"Consider hand carry as opposed to checking baggage," says Bob Jones of BookingWiz.com. "Clearly there is less chance of losing your bags if you are your own porter. The travel period is short, 3 to 5 days, so the one allowable carry-on as well as a purse, briefcase or computer bag should accomplish the short stay."

Rebecca Clark, 25, and her husband, Andrew, 26, are also driving home this year. "Especially with the heightened security, flying has been more of a hassle than it's worth. Rushing to the airport and not being able to pack liquids," she says. "And food and gifts are not easy to bring on planes." The newlyweds are planning on driving from their home in Chicago to her in-laws in Canton, Ohio. "After a few bad experiences, we fly only if the distance is too far," she says.


---
---
---
Leave a Comment