Lake County Is A Breath of Fresh Air
Up in the mountains, surrounded by breathtaking views and draped in stars is where you'll find Lake County.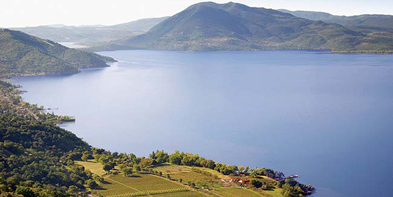 Photo Courtesy of Touring & Tasting
---
"
Lake County is unpretentious, real, and filled with good people, family, and friends."
In the heart of the Mayacamas and Vaca Mountain ranges, just 20 miles north of the Napa Valley, stands a pristine wine country that has quietly been growing outstanding wine grapes for a very long time. Lake County, California rises above the rest of the world in more ways than one. It boasts the cleanest air in California, the oldest lake in the continental United States, and a variety of splendid soils whose contents range from volcanic to alluvial. On a clear day (which is most days), you can see Mount Saint Helena to the south, Pinnacle Rock to the north, and sometimes, even Mount Lassen to the east. On any day, you can see magnificent Clear Lake tucked under the watchful eye of Mount Konocti and realize that youíve found a very extraordinary place.

Ask a Lake County winemaker whatís special about the region and youíll hear about incredible climate and fascinating terroir. Ask anyone else who has had the good fortune of spending time here, and youíll hear about stunning vista views, fantastic wines, friendly residents, the lack of traffic (there are only a dozen traffic lights in the whole county), and a multitude of stars.



So Close Yet So Far Away


Lake County is surprisingly easy to get to from the San Francisco Bay Area, the Sacramento Valley, and the Pacific Coast. Itís just two hours and the drive is painless, especially when you remind yourself that youíre headed to a place that literally rises above the rest. Geologists believe that Clear Lake may have been a lake site for approximately two and one-half million years. Mount Konocti is a very, very old dormant multiple volcano and sacred to local Native American tribes. When you arrive in Lake County, breathe deep. Itís the best air you could ask for.



So Much To See, So Much To Do


Lake County is a natural wonderland. Besides magnificent Clear Lake and Mt. Konocti, the area is home to a plethora of wildlife, including hundreds of bird species, a large population of fish (especially largemouth bass), plus deer, tule elk, and moreóand thereís plenty of room for everyone. Clear Lake is known as the Bass Capital of the West and is the largest natural freshwater lake in California. Mount Konocti has a new county park and hiking trails that lead to the top. And this is only the beginning. There are more lakes and reservoirs, wildflowers, rolling hills, elevated valleys, fertile farms, and of course, vineyards with jaw-dropping views. These are the things adventures are made of.



Speaking Of Adventure


When you adjust to the fact that youíre now in a haven of natural beauty, itís time to do anything fun that ends with i-n-g. Swimming, boating, waterskiing, wakeboarding, jet skiing, tubing, fishing, sailing, canoeing, kayaking, sea plane riding, hot springs soaking, hiking, golfing, bicycling, mountain biking, bird watching, nature walking, vegetable picking, shopping, antiquing, dancing, and driving (thereís a farm trail, quilt trail, and of course, several great wine routes to drive). The shores of Clear Lake hold many treasures, including Rodman Slough, home to one of the largest Great Blue Heron rookeries in Northern California, as well as two state parks, Clear Lake State Park in Kelseyville, and Anderson Marsh State Historic Park in Lower Lake.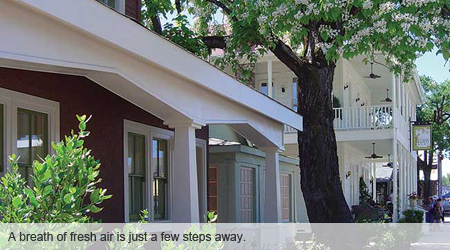 Community Matters


A strong sense of community weaves the towns, villages, and farms into one tight tapestry. Festivals, car shows, boat shows, parades, art openings, and farmersí markets fill the county calendar, and they are well attended by all. Family is important here, and youíre always encouraged to bring yours along. If you rent a boat or other watercraft for the day, thereís a good chance youíll make friends with other boaters by nightfall. And, when you stop at a farm or winery, donít be surprised if you meet the owner and get offered an impromptu tour of the place. Lake County is unpretentious, real, and filled with good people, family, and friends.



Cause For Applause


When the sun sets, restaurant-goers come out to dine on fresh local fare. Barbecued ribs, steak, chimichangas, pot stickers, fresh fishóyou name it, there's a good chance it can be ordered somewhere in Lake County. Art studios have frequent openings and evenings with a local winemaker. Concerts are often held in all kinds of venues from town taverns to local casinos, which also offer exciting table games, slot machines, and banquet facilities. The casinos book both local and top national acts that appeal to a range of tastes. Thereís even a drive-in movie theatre in Lakeport that runs a double feature every night during peak summer months. And, at the end of the evening, you can look up and admire the canopy of stars.



Wines With A Sense Of Place


Currently, there are 30 wineries in Lake County. Their wines repeatedly win awards at the major competitions and some have been enjoyed at the White House. Now itís your turn. The region is best known for world-class Cabernet Sauvignon and Sauvignon Blanc, but plenty of other varieties are thriving in this unique and diverse terroir, including Chardonnay, Riesling, Syrah, Tempranillo, Petite Sirah, and many more. There are wineries located as far south as Guenoc Valley and Middletown, and as far north as Upper Lake. Because of the distinct differences in the soils, you really should taste wines grown in different soils around the county. Be sure to sample wines from the Red Hills, High Valley, and Guenoc Valley AVAs. All are fun, short road trips from Clear Lake, and youíll not only taste, but see the difference terroir makes. There are also several tasting rooms and a few wineries in and around Kelseyville and across the lake in Clearlake Oaks and Nice. Stop, taste, and then go on to something else that ends with i-n-g.



Stay A While


Abundant in nature, fun, friendliness, and exceptional wines, Lake County is a true destination. From refined to rustic, thereís a wide selection of places to temporarily call home. Besides boutique hotels, bed and breakfasts, full-service resorts, and cost-conscious inns, there are opportunities to stay at a farm or lakeside campsite. If time permits, stay a few nights at least. You wonít run out of fun things to do or wonderful wines to drink for a very long timeóor at least as long as Clear Lake and Mount Konocti are standing by.

Touring & Tasting is a media company that produces a wine and travel magazine and is also partner in the Hitched Wine Club.
---
Also recommended from Hitched
---
Leave a Comment