Get Cozy In the Napa River Inn
Located inside the historic Napa Mill is an elegant retreat in downtown Napa.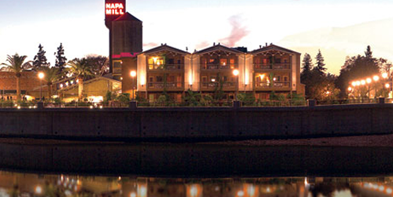 ---
"
Brick and metal alludes to an industrial past, while views of the garden or the Napa River invite quiet indulgence."
Tucked inside the Historic Napa Mill, the elegant and historic Napa River Inn in Napa, California delivers the quintessential Napa neighborhood experience. The attractive boutique hotel offers world-class dining, local specialty shopping, and live entertainment along downtown Napa's riverfront, giving guests an ideal vantage point for experiencing the town's burgeoning nightlife.

Built in 1884 by Captain Albert Hatt, the Historic Napa Mill is a registered Historic Landmark that has been resurrected into a lively spot for visitors and locals alike to gather. Waiting within a matter of steps of the inn's front door, are La Pelle's Day Spa, Silo's Night Club, The Napa General Store artisan shop and café, the Vintage Sweet Shop, and two restaurants: the Angele and Celadon. Sweetie Pie's Bakery is right next door and will deliver breakfast straight to hotel guests in their rooms.

Each of the Napa River Inn's rooms reflects the environment and atmosphere of Napa and the Historic Napa Mill. Brick and metal alludes to an industrial past, while views of the garden or the Napa River invite quiet indulgence.

The Napa River Inn understands the bond between guests and their beloved pets. The V.I.P. program (Very Important Pet) offers pets all the comforts of wine country. The hotel also answers the needs of meeting-goers with two venues: a beautiful outdoor plaza, and a charming indoor meeting room which was part of the original mill.

The Napa River Inn offers guests a cozy, welcoming vibe. The inn is just a short walk from 18 wine tasting rooms throughout downtown Napa. Downtown Napa is also the departure point for the Napa Valley Wine Train, offering gourmet dining and wine tasting.

Whether sneaking away for a romantic weekend with your spouse or attending a company retreat, guests appreciate the Napa River Inn and everything it—and the surrounding neighborhood—has to offer.



CONTACT


Reservations: 877.251.8500
napariverinn.com
500 Main Street
Napa, CA 94559
$229 and up



SPECIAL NOTES


Locally owned and operated, pet friendly, meetings, corporate events, restaurant



Win 2-Night Stay:


Join the Hitched Wine Club by July 31 and you're automatically entered to win our Napa Giveaway. Click to Learn More.

Touring & Tasting is a media company that produces a wine and travel magazine and is also partner in the Hitched Wine Club.
---
Also recommended from Hitched
---
Leave a Comment