Regaining Your Sexual Spark Post-Baby
Learn how you and your spouse can keep the spark alive even after your little one has arrived.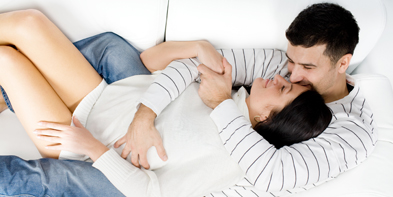 ---
"
For some women, the inability to gain back their mojo post-pregnancy is often mental and can be linked to body insecurities."
There's a common misconception out there that women lose their sexual drive after giving birth. I am here to tell you that this is just incorrect! From my personal experience as a mother and having worked in the field of sexual health for over 30 years, there is enough information out there to disprove this myth. As taboo as it might sound, moms want and need sex as much as any other woman!

There's no denying that welcoming a new baby into the household is a major adjustment for couples, especially when it comes to intimacy. A new baby initiates a phase of total chaos and sleep deprivation, but it doesn't have to mean the end of your sex life. In fact, a new study shows that sexual desire among new moms often returns to pre-pregnancy levels within about a month, although doctors normally recommend waiting seven to eight weeks before engaging in sexual activity.

For some women, the inability to gain back their mojo post-pregnancy is often mental and can be linked to body insecurities. It can be tough adapting to your new body, but ladies, please keep in mind that these changes are 100 percent normal and will improve. Ready for the good news? According to another recent study, the leading killer of sex drive has nothing to do with lack of body confidence! The top reasons are fatigue, baby's sleeping habits and lack of time. The study reveals that the number one reason women jump back into the sack post-baby is their own feelings of intimacy and closeness to their partner. Point being—new moms want sex.

So how can couples keep the spark alive after having a baby? Well, they may just need a little motivation and a few helpful hints from someone who has been there. An important and easy step to take in regaining your intimate life is to maintain your vaginal health. Here are two quick tips:



*

Breast feeding can dry out the body, including your vagina, making it difficult, and at times painful to have sex. Proper lubrication is a must! To combat dryness, try a gentle vaginal moisturizer that is absorbed by the body and can keep sensitive tissue supple.



*

Many doctors recommend Kegel exercises before pregnancy for strengthening the muscles that will help you during labor and after pregnancy to promote perineal healing, regain bladder control, and strengthen the pelvic floor muscles. The best part? Strong PC muscles (the ones strengthened through Kegel exercises) can enhance sexual pleasure and lead to a bigger "O." Kegels can be practiced solo, or for an extra challenging workout.

Lack of sexual drive post-birth is normal, but it is important for women to rediscover their bodies by experimenting with new foreplay patterns, new positions, and new techniques that are pleasurable. And yes, this does serve as an excuse to have more sex so enjoy it!

Patty Brisben is a sex expert and the Founder of Pure Romance (www.pureromance.com), in-home party company that sells a premier line of relationship aids. She is a highly noted and frequently called upon expert in the fields of women's intimacy and relationships, as well sexual health education and awareness. Read more from her blog at http://pattybrisben.wordpress.com.


---