Explore Food and Wine in the Washington Tri-Cities Area
A booming area of Washington takes advantage of the 300-day average of sunshine.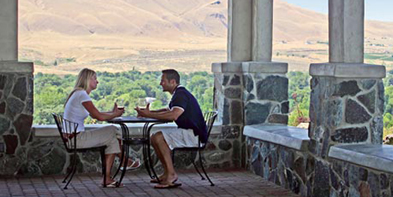 Tri-Cities Visitor & Convention Bureau
---
"
Like the three rivers which converge here, the cuisine represents diverse origins and cultures."
The Tri-Cities is located in the heart of Washington wine country in the center of the Pacific Northwest, about a three and one-half hour drive from Seattle and Portland.

For first-time visitors it can be confusing, starting with the climate. As green and lush as the state of Washington is, the Tri-Cities doesn't see much rain. It's sunny on an average of 300 days per year. The air is dry and desert-like, but there is plenty of water, too. Three amazing rivers—the Columbia, the Snake, and the Yakima—converge here, creating an oasis that makes kayakers, fishermen, water skiers, canoeists, sailors, kite surfers, and pontoonists very happy. Landlubbers too. The area offers enough challenging terrain for cyclists, beguiling trails for hikers, and beautiful golf courses to keep everyone entertained for days on end.

Rent a kayak on the Columbia River. Hike up Badger Mountain, or walk or bicycle along 35 miles of Columbia River shoreline. About two-thirds of this stretch comprise the Sacagawea Heritage Trail, a recreational and educational paved trail offering interpretative topics that take a variety of forms portrayed along the route, covering natural, historical, and cultural subjects. There are countless ways to spend the day.

And, with 160 wineries within a 50 mile radius, you can work wine tasting into any agenda. Tri-Cities wineries are intimate and unassuming, yet they have the resources to produce world-class wines. Some you have heard of. Others you haven't. All are worth discovering.



Four Tri-Cities


Why are there four, when the region is called the Tri-Cities? Well, according to the U.S. Census Bureau, Tri-Cities, Washington is the fastest growing metropolitan area in the country. It only makes sense that the region is bigger than its name. No matter where you turn in Kennewick, Pasco, Richland, and West Richland, you will find outdoor adventure at your doorstep. And, with the Columbia, Snake, and Yakima Rivers nearby, we suggest you put water recreation—and wine tasting—at the top of your list.



Local Wines


The Tri-Cities' Columbia Valley lies on the same latitude as the Bordeaux region of France, with rich volcanic soil and very similar growing conditions. More than a dozen wineries are located in the Tri-Cities and about 150 more are less than a beautiful hour's drive away in the Yakima and Walla Walla Valleys, as well as Red Mountain. Although you'll definitely discover magnificent Bordeaux varietals and blends, expect much more! In fact, the area's leading white grapes are Chardonnay and Riesling.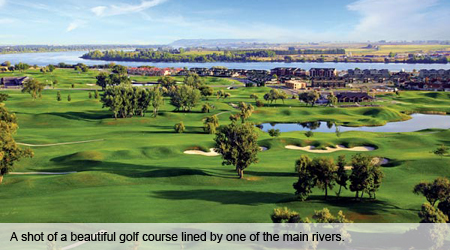 Local Foods


Naturally rich in agriculture, local farmers' markets are as frequent as they are fantastic here. Even if you plan to eat out every night, make a point to visit a farmers' market to see just how beautiful the bounty from this region is. There is no native Tri-Cities fare. Like the three rivers which converge here, the cuisine represents diverse origins and cultures. Go Mediterranean one night and Mexican the next. Basically, it's whatever you want and everything pairs well with the regional wines.



Local Finds


The heart of Washington wine country keeps beating into the evening hours at several local tasting rooms. Some feature live music while others host special winemaker dinners and themed tastings. Wine bars offer great selections of local wines. Also, check out a local sports bar, brewing company, or martini bar! Plan a flexible agenda and give yourself plenty of time to have fun and explore. You'll find some interesting getaway ideas and packages on the Tri-Cities Visitor & Convention Bureau website.

Touring & Tasting is a media company that produces a wine and travel magazine and is also partner in the Hitched Wine Club.


---
---
---
Leave a Comment