Wine Tour: Trinchero Napa Valley
Located in St. Helena, California, this family-owned winery has learned how to grow in all of Napa Valley.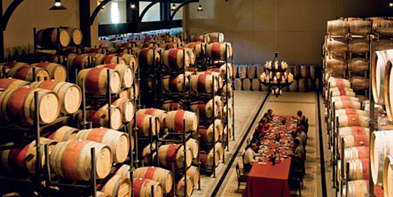 All photos courtesy of Trinchero Napa Valley
---
"
Estate grapes are important because, for me, estate means complete control."
With a Napa Valley winemaking history that dates back to 1948, the Trinchero family has gained an exceptional international reputation for producing fine small lot wines. Through the years, they have acquired a series of small vineyard sites in specific areas of the Napa Valley, targeted for their uniqueness. Trinchero Napa Valley now draws its grapes from seven distinctive vineyard sites in five of the valley's designated appellations and produces its wines in a new estate located just north of downtown St. Helena. The wines are showcased in a remodeled farmhouse, which dates back to the mid 1800s. It honors its founder, Mario Trinchero, who laid the foundation for what is now one of the nation's most successful family businesses.

The profound effect that terroir has on the flavor of wine can be readily appreciated with a visit to the Trinchero Napa Valley tasting room. Walkup tastings are available daily, but the winery also offers daily seminars that provide a more in-depth and personal introduction.

Cabernet Sauvignon aficionados enjoy A Taste of Terroir, a horizontal tasting of four Trinchero Napa Valley single-vineyard Cabernets from St. Helena, Rutherford, Atlas Peak, and Mt. Veeder. In this side-by-side evaluation, one becomes more aware of the differences in each of these valley appellations and learns how a vineyard's site can impact the aroma and flavor of a wine in the glass. Another enlightening daily opportunity is The Sensory Challenge, an introduction to wine's aromatic makeup highlighted by playing the Le Nez du Vin aroma challenge where guests test their own sensory skills.

Happily, those not planning to visit the Napa Valley soon don't need to wait to taste the estate wines of Trinchero Napa Valley. The winery's Legacy Club provides regularly scheduled shipments of Trinchero wines four times a year. With a Napa Valley legacy of more than 60 years, the Trinchero name is synonymous with the evolution of the Napa Valley as one of the world's most prestigious wine growing regions.



An Interview with Winemaker Mario Monticelli





T&T: What does it mean to work for a family-owned winery?




MM:

Being family-owned is very important. More than profitability, quality, value, and the reputation of the family name are the main focus.



T&T: What do you like about crafting single vineyard wines?




MM:

I like them because you can taste the terroir. I make five vineyard designate Cabernet Sauvignon wines, from different parts of Napa. You'd think they'd all be similar but they all taste and smell very different from one another. It's the soil that gives wine its little nuances.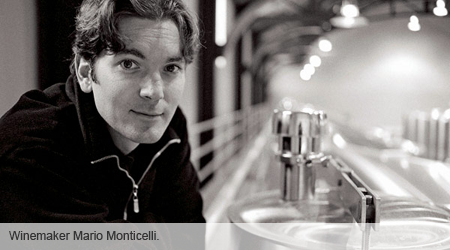 T&T: Can tasting room guests expect to detect those nuances?




MM:

Most definitely. Chicken Ranch (Rutherford) is valley floor fruit from very fertile soil with lots of clay. The wine is old-world style, with red fruit and firm tannins. Central Park West (St. Helena) is also fertile valley floor fruit, but the soil has less clay, so it's well drained. The wine shows more purple fruit and softer tannins. Mario's Vineyard (St. Helena) grows bench fruit—the soils are rocky and high in mineral content. The wine has more floral aromatics and velvet tannins. At 1,700 feet elevation on the east side of the valley, Haystack's (Atlas Peak) high elevation, very stressed, rocky soil makes the most powerful, colorful, and tannic Cabernet. At the same elevation on the west side of the valley, Cloud's Nest (Mt. Veeder) has more richness in the soil. These wines possess forest floor aromatics, anise, and briary purple fruits.



T&T: Why do you value working with 100 percent estate grapes?




MM:

Estate grapes are important because, for me, estate means complete control. Our viticulture team is awesome, very skilled. I work closely with them, I get to make all the viticulture decisions: watering, crop thinning, canopy management and ultimately, when and how we pick each vineyard block. As a winemaker, you can't ask for anything more.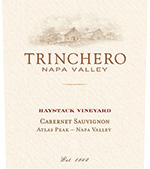 WHAT TO BUY




'08 Cloud's Nest Vineyard Cabernet Sauvignon

Dried cherry, dried herb, briar patch, tobacco, black tea, cassis, wild cherry $60



'08 Haystack Vineyard Cabernet Sauvignon


Blackberry, blueberry, coffee, baking spice, cocoa $60



'08 Signature Cabernet Sauvignon


Ripe black fruit, coffee, cigar box, baking spice, cocoa $100



CONTACT


707-963-1160
lprice@tfewines.com
trincheronapavalley.com



TASTING


Tasting Room Open Daily 10–5
3070 St. Helena Hwy N
St Helena, CA 94574



SPECIAL NOTES


Private tastings by appt, wine club discounts, wine club events, educational seminars by appt, scenic setting

Touring & Tasting is a media company that produces a wine and travel magazine and is also partner in the Hitched Wine Club.
---
Also recommended from Hitched
---
Leave a Comment