Baby On Board
Ever wonder what it would be like to travel across seas with a three-month-old. So did we. Prepare yourself for the world's bravest couple.
---
Nobody ever said parenthood was easy, but just to make it even more challenging, my husband Greg and I arranged to travel for nearly six weeks—overseas—with our 3-month-old daughter Noa. Little did we know what "adventures" lay ahead for us both as parents and as life partners.

The journey began on a plane ride to France, backtracking to Miami, down to South America, back up to Colorado and short skip to New Mexico before finally returning to our home in Alaska. Wonder how we did it and still remained married after returning home? Read this diary-like account of how we made it back in one piece with a newborn in tow.

DAY 1
Situation: We take Noa on her first airplane flight. We are nervous that she will cry the entire way and we'll make our fellow passengers miserable.

Response: Greg and I tag team each flight, taking turns rocking her, playing with her, holding her while she sleeps, walking her up and down the aisles, and changing her diapers in the cramped airplane bathroom. While we are exhausted by the time we arrive in France, we are rewarded by the many compliments about our "quiet baby." We pat one another on the back for a great team effort. Just about every flight after that goes the same way. We figured out what worked, and we stuck with it.

DAY 3
Situation: Baby had been sleeping through the night in her own room before we left, but now she is on "Baby Zone" and wakes us up every hour on the hour. We are spiraling back into a zombie-like sleep deprivation compounded with jet lag, and are at our wits end.

Response: At night, I try to get up as much as possible to feed Noa so Greg can get a little extra rest. In the mornings, he takes her out for walks so I can sleep another half hour. We try to keep our parenting duties balanced, but we find that the important thing is not to measure who did what when. We also discover that the best part of the sleepless nights is when one of us volunteers to do an extra shift so the other can drift back to sleep. We experience firsthand the value of giving extra consideration to the other person.

DAY 4
Situation: Greg takes Noa on a long walk through two coastal towns in France's Normandy region—and Noa gets her first sunburn. She is up all night whimpering loudly and pitifully, clearly in pain.

Response: At first, our sleep-deprived brains and frazzled nerves get the best of us. We both explode, snapping at one another, pointing fingers of blame. But quickly, Noa's pain takes precedence over our own feelings. We know we have to forge through another sleepless night to comfort our daughter. Neither one of us can do it alone. Acknowledging out loud that we need each other is a powerful moment in our relationship. We are really in this thing together. As a reward for our perseverance and patience, we order room service the next morning. It was over $60 for breakfast, but sometimes it helps to splurge on a pricey meal to take the edge off a rough night.

DAY 6
Situation: Noa has a "poo explosion" while we're en route on foot to the Eiffel Tower. There are no bathrooms in sight.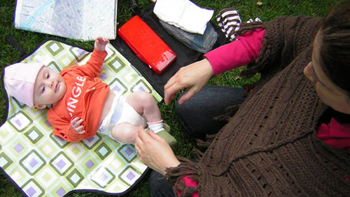 Response: We improvise. I have Noa's diaper changing kit and we sit down on a grassy area in the park next to Paris' most famous monument and proceed to change her diaper in public. Greg stands guard making sure "the coast is clear." Sure, I panic for a moment when I see two armed guards approaching us, but they just smile and walk on by. We take photos of baby's diaper change beneath the Eiffel Tower to commemorate the moment. We both just do what we have to do without questioning it. (Thinking back, I'm sure there was a bathroom in the Eiffel Tower, but I guess the photos wouldn't have been as good!)

DAY 12
Situation: Noa's poop is green, practically Day Glo.

Response: While it seems funny in retrospect that a dirty diaper can cause such panic, we were very concerned at the time. Rather than looking to blame the other for this strange development, we focus on the problem at hand and begin detective-like deductions to figure out what was happening. What had we done differently in the recent past? Was it something I ate? Was it a strange, foreign illness we hadn't read about? We finally traced the source back to a can of French baby formula purchased at a pharmacy in Paris when we ran out of Noa's usual brand. Comparing the labels of both revealed that the French brand contained more iron. Looking on the Internet we found that excess iron can turn a baby's poop green. We solved the mystery and could admit that not everything that happens is one of our faults. Taking the responsibility equally was key to getting through a worrisome situation.

DAY 18
Situation: We had arranged a babysitter to take care of Noa at our bed and breakfast in Chile so we could attend a conference. The babysitter calls in sick a few hours before the conference's opening event.

Response: We explain our predicament to Marilu, the owner of Marilu's Bed and Breakfast in Santiago where we are staying. She immediately makes calls and finds us a sitter. Although she can't find one person to cover all four days of the conference, she arranges three different sitters to handle the entire job. We, in turn, realize we have to trust total strangers in a foreign country with our baby. At times like this, trusting one another is just as important as trusting others. We trusted that we were making the right decision given the circumstances, and we made the decision jointly. Everything worked out well. Noa learned how to be with new people and we learned that we could be adaptable to new situations.

DAY 20
Situation: Noa is sick. There is a loud rattle in her chest, she is stuffed up, coughing, sneezing, and seems completely miserable. And we're still in Santiago, Chile at a hotel.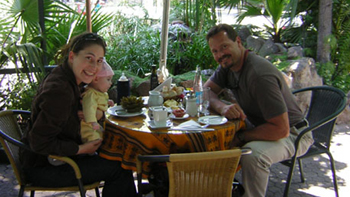 Response: I call Noa's pediatrician in Alaska. Greg thought I was overreacting, but he supports me as I seek out information. I think this falls under the "pick your battles" category, as well as the "don't diminish each other's concerns." It would have been easy for Greg to say that I was making a big deal out of a little chest cold. By having his support, I didn't feel like a crazy new mother placing a call across the globe for no good reason. We found out that moisture was the key—we were told to give her a little more water and sit with her in a steamy bathroom. I appreciated the fact that Greg took me seriously. Giving one another respect really goes a long way.

DAY 26
Situation: Has it really been a month without sex? We had been staying in the same hotel room with baby most of the time and with family or friends the rest of the time, so the setting never seemed right. Now we were in a motel a month into our trip wondering if we should wait until we get home.

Response: We wait until the baby is asleep. Why didn't we think of that sooner?

DAY 36
Situation: It is the last flight of our entire trip, the flight home. Noa is fussy before takeoff and proceeds to cry. And cry. And cry. Nothing we do consoles her. Am I paranoid or are we starting to get dirty looks?

Response: I decide to take care of Noa the entire flight. Sure, we had learned that we could work together as a team and get through a tough situation, but at that moment, I instinctively feel that Noa needs some consistency. After everything we all have been through together, I know Greg is right there if I need him. At a certain point, I do turn to him to help with her, and he immediately obliges. I am grateful that he respects my decision to handle the situation differently. By being flexible, he empowers me to work the situation out in the way I feel is best. Each situation is different and sometimes we have to trust our inner gut. Noa finally does calm down, and soon we are home.

After 36 days on the road, in the air, at hotels, restaurants, conferences and historical sites across three continents, we juggled and struggled but managed to make the best out of a very challenging undertaking. The most important things we did were to keep our focus on the situation at hand, put our daughter first but one another at a close second, and find ways to show our appreciation for each other all along the way. A simple "Thank you" could not be overused on this trip, and we said it often to one another. Almost as often as we said "I love you."

Aliza Sherman Risdahl is a writer and media producer living in Alaska. Her work can be found at www.mediaegg.com.


---
---
---
Leave a Comment