Dan Smith, founder of Sweet Cheeks Winery in Eugene, Oregon is often asked how the winery came by its intriguing name. He says it originated in 1978 as he sat on his front porch overlooking the vineyard that he and a colleague were preparing for planting. Dan noticed that the contour of the vineyard possessed a curious double swell. When his colleague asked what he planned to name the vineyard, Dan quipped, "Sweet Cheeks."

The name stuck and really took hold when Sweet Cheeks Vineyard began producing exceptional cool climate grapes. Located in the southern fringes of the Willamette Valley, the 65-acre estate vineyard is planted to Pinot Noir, Pinot Gris, Chardonnay, and Riesling on prime sloping hillside overlooking the Briggs Hill Valley. For nearly 30 years, the grapes from Sweet Cheeks Vineyards were coveted by many wineries. But in 2005, Dan decided it was time to make his own wine, and he founded Sweet Cheeks Winery.

The first vintage was crushed in 2006 and the wines were an instant success. Although critics rave about the entire lineup (for example, the 2008 Sweet Cheeks Pinot Noir snagged a Silver in the 2012 SavorNW Wine Awards), the winery admits to a self-professed love of Riesling of all styles and considers it to be one of its signature wines. Regardless of the variety, Sweet Cheeks Winery strives to fully express the terroir and varietal characteristics of each harvest by advocating minimal handling and gentle processing throughout the winemaking process.

Sweet Cheeks' tasting room is housed in an authentic 50-year-old building originally built in Junction City. Dan saved it from the wrecking ball and had it transported to the perfect hilltop spot overlooking the vineyards and Crow Valley below. The beautiful tasting room features vaulted ceilings trimmed in Oregon Chinquapin wood, tumbled stone floors, and a soapstone fireplace. It has become a gathering place for people who appreciate scenic views, great times, and wonderful wines.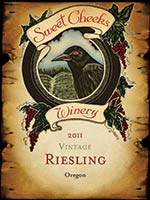 WHAT TO BUY




'11 Vintage Riesling - $14


Fruity, fragrant, delicately sweet, Kaffir lime, subtle orange blossom



'09 Pinot Gris - $15


Cantaloupe, fig, crisp finish



'08 Pinot Noir - $22


Dark rich cherries, vanilla



CONTACT


541-349-9463
info@sweetcheekswinery.com
sweetcheekswinery.com



TASTING


Tasting Room Open Daily 12–6
27007 Briggs Hill Rd.
Eugene, OR 97405



SPECIAL NOTES


Picnic grounds, scenic view, live music Friday nights and Sunday afternoons, weddings, corporate events.

Touring & Tasting is a media company that produces a wine and travel magazine and is also partner in the Hitched Wine Club.