What's Hot for the Holidays?
Wondering what the most popular gifts are this Christmas? Find out here, plus get their eBay price.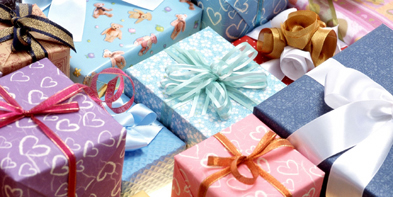 ---
Ho, ho, ho! It's the most wonderful time of the year, and most of us celebrate by giving in and indulging in our primal materialistic urges. But what to do if you're searching for that elusive "perfect gift" and can't find it? Fear not because we know where to look. We've put together a short list of the hottest items and what they're going for on the world's biggest online marketplace, eBay. Most of the popular items are consumer electronics and video game systems, which made up almost 34 percent of items sold on Black Friday, according to the National Retail Federation (NRF), and are the dominant player on this year's wish-lists.

Playstation 3
Ah, the Playstation 3. It's expensive, rare, and even a little dangerous for all of those poor souls who risked bodily injury and harm standing in line to get one last month. It's the next generation video game console and due to its limited availability and high-demand, the PS3 has joined the ranks of past holiday must-haves such as the infamous Tickle-Me Elmo, Beanie Babies, Uggs, and iPods. This crazy supercomputer masked as a game console is number one on our list and on eBay's list of top tens as well.
Retailing Price: $599 (60GB model)
eBay Price: $800 and up

T.M.X. Elmo
According to the NRF, the T.M.X. Elmo is the number one toy for boys this year and number four for girls (the number one girls toy is, of course, Barbie). The Fisher-Price toy was shrouded in secrecy until its unveiling last month. Like the PS3, this is a next-gen toy. This new Tickle-Me Elmo responds by laughing and moving when he's tickled. You can find him rolling around on eBay.
Retail Price: $40
eBay Price: $50

Nintendo DS Lite and Sony PSP
Handheld gaming isn't just a niche market for gamers anymore. With the arrival of sophisticated machines like the Nintendo DS Lite, which offers dual screens and the PSP, which can play movies and music along with its games, mobile gaming systems are hot products this year.
Retail Price: $130 (DS Lite); $200 (PSP)
eBay Price: Comparable for both

Nintendo Wii
While the Wii might now be just as rare as the Playstation 3, it was more readily available at its launch and the price has been much easier to swallow. The new Nintendo video game console uses motion-sensing technology to control movement in games. It doesn't have the graphic capabilities of the PS3, but that's okay because it's targeting a different demographic—namely those who don't traditionally play video games.
Retail Price: $250
eBay Price: $300

Clothing/Clothing accessories
It's a vague category of gift items but clothes are the biggest sellers every year and this past Black Friday, it was at the top again in terms of popularity, garnering 41.4 percent of the items purchased. EBay's top ten has designer handbags and cocktail dresses at number four and number ten spots respectively.

Laptops
Who buys desktops anymore? Laptops are becoming cheaper and more popular amongst computer buyers. Apple has released their new MacBooks with Intel Core Duo processors that retail for around $1100 and you can find comparable deals on eBay. For PC users, the new Windows Vista operating system is coming out soon, so cheap laptops from companies like Dell, Gateway, or HP are worth looking into.


---
---
---
Leave a Comment