Heat of the Moment
Work up a winter appetite with a holiday cooking class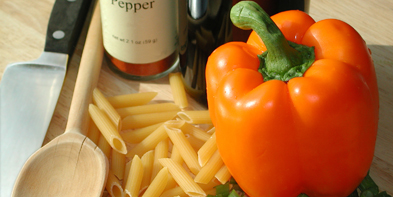 ---
Maybe you're both working stiffs too tired to whip up a meal beyond the microwave and have various drive-thru dinner routes permanently etched in memory. Or are you at the other end of the spectrum with hours of Food Network shows clogging your TiVo? Either way, taking a cooking class with your spouse is a great way to spend some time together and learn how to make some tasty dishes. And with the holidays upon us, it's perfect timing to flex your culinary muscles and show your family how dynamic your duo really is. Tonight, relish in preparing a meal with your very own Giada De Laurentis or Jamie Oliver.

Beginners to advanced cooks alike learn how to create culinary delights at PREP, a Long Beach, California, fine kitchenware retail store and cooking school. Owners John Chvostal and Lisa Dohner make sure a number of recipes are offered in each class with varied levels of sophistication and ease. With married couples comprising a quarter of the classes, Chvostal says, "This provides a neutral and enjoyable atmosphere to rekindle the fun of your relationship and cooking." If you can't even boil water, don't worry. "A surprising number of people that take classes want to learn basic fundamentals for cooking," Chvostal assures.

A holiday cooking class is about two and a half to three hours at PREP and costs $150 for two, which is competitively priced against classes at Williams Sonoma and the like. Focusing on sophisticated but easy-to-prepare cooking dishes especially for entertaining, an upcoming PREP holiday class menu boasts foodie-approved fare like curry chicken salad tartlets and mango jalopeno cilantro crab crakes. The chef reviews the menu of the day and discusses special ingredients and techniques. With a class size of about a dozen, participants form groups or couples are assigned several dishes to prepare, all with the guidance of a professional chef. There's no sitting back and watching a demonstration, you're actively preparing these dishes. With mise en place where all the ingredients are ready and tools are in place, couples can relax as they cook and enjoy the experience. (Think of the alternative: fighting mall crowds and heat lamp food court offerings.) In the end, your final exam is savoring the fruits of your labor on a large set table.

When seeking out a cooking class for you and your other, Chvostal recommends checking out the class environment, talking to those who've already taken classes there if possible and looking into the chefs' bios and menu.

If a few hours just aren't enough to satiate your yen for cooking, travel trips and tours are offered by a few businesses. PREP is signing up enthusiasts for its first international culinary adventure, a seven day chef-hosted cruise to Mexico this spring. But if you're content to practice your skills at home on dry land, you and your mate can always take being The Naked Chef literally—after the relatives have gone home, of course.


---