Set in an environment thatís as romantic as its name, Wine & Roses Hotel, Restaurant, and Spa offers visitors to Lodi, California wine country a splendid retreat. From the moment they arrive, guests feel theyíre in good hands. The staff has a knack for sensing just how much pampering one requires and proceeds accordingly.

The hotel features 79 spacious guest rooms and suites located in a variety of settings. The Historic Inn, built in 1902, offers individually designed guest rooms, each with a distinctive charm. Garden Rooms boast rustic luxury, Spa Rooms emanates a Zen-like feel, and the Signature Suites are abundant with custom details and amenities. No matter where they land, guests tend to feel right at home. They admire breathtaking views of lush gardens from their veranda or balcony as they settle in, appreciating the hotelís many creature comforts like Italian linens, down pillows, free WiFi, in-room voicemail, and Aveda personal care products. Some rooms also feature flat-screen TVs, iPod docking alarm clocks, and plush Wine & Roses bathrobes. In the morning, guests can rise slowly, enjoying in-room morning coffee service and whole fruit. Or they can get an early start with a workout in the well-appointed fitness center or heated outdoor pool.

When itís time for breakfast, the restaurant offers an eye-opening menu, with appetizing specialties like Spanish chorizo tortillas and crab cakes Benedict. Guests can choose to dine in the historical dining room or out on the veranda, surrounded by flowering gardens and deodar trees.

From here, guests are encouraged to do just as they please. Some venture out to visit nearby wineries or explore downtown Lodi. Others linger by the pool, soak in the Jacuzzi, or head for the award-winning spa. Named one of Spa of Americaís Top 50 Spas of 2010, the Spa at Wine & Roses offers a tempting menu of body treatments, facials, and more. The Wine & Roses Ultimate Treatment begins with a grape seed body scrub, followed by a rinse in a private outdoor shower, a luxurious massage, and wrap in body butter. A face massage during the wrap completes the experience.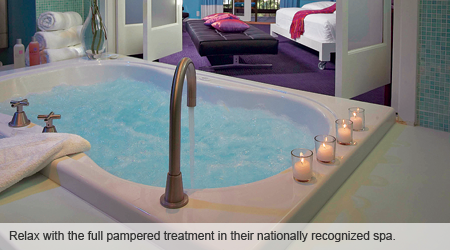 Itís no surprise that this sublime environment is a popular spot for all kinds of get-togethers. Those searching for a memorable spot for a business meeting, corporate event, executive retreat, training seminar, or awards banquet value the propertyís full event coordination and planning service. Thereís a dedicated banquet captain assigned to each event, ensuring that every detail will be attended to. Wine & Roses is a favorite of brides and wedding planners, too. The property features several unique wedding venues that provide the setting for everything from a small, intimate ceremony to a large reception for up to 350 guests.

Evenings are enchanting at Wine & Roses. On cool nights, the fireplace is lit in the lounge, sometimes live music plays, and the restaurant waits patiently with a menu featuring delicious California cuisine made from the freshest local ingredients.

After their stay, some guests realize that during their visit to Wine & Roses, they never left the grounds. And really, who would blame them?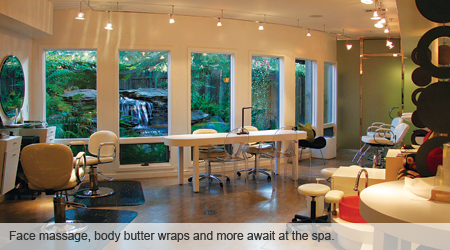 AN INTERVIEW WITH WINE & ROSES CO-FOUNDER RUSS MUNSON




T&T: How long have you and your wife Kathryn owned Wine & Roses?





RM:

For just about 13 years. The history of how we acquired the property is complicated to relate (and Iím a developer specializing in real estate), but I can say that our partners, our employees, and Kathryn and I are all very proud of this accomplishment. We have built Wine & Roses Hotel, Restaurant and Spa to complement the growing wine industry and all that it has to offer for our community and region.



T&T: Has Lodi changed much since you developed Wine & Roses?





RM:

Absolutely. Initially, the Lodi Winegrape Commission created our Wine & Visitor Center (one of the first of its kind in the state) to gain more exposure for the Lodi Appellation. From its opening in August of 2000, the number of tourists and the recognition of the appellation have significantly increased. Despite its residential growth, Lodi has retained its agricultural identity and remains a tight-knit community. Wineries once numbered around 10 in the area. They now number more than 80, with more to come. With all this, Lodi has retained its identity as a special place.



T&T: What do you think makes Lodi, as a wine region, special?





RM:

The people and story behind the wine are what makes Lodi special. In the '60s, while we were in college, we used to venture to Napa. It was much the same as Lodi is today, small wineries with great wine, reasonably priced, and a place where you get to meet the winemaker or owner of the winery. Beyond this, itís the community and its people that make Lodi special.



T&T: Why do you think our readers should put Lodi on their getaway list?





RM:

Lodi provides the atmosphere and the reality of a real wine-making region still in its infancy. Now, this isnít to say we havenít been producing wine for very long, actually we have been producing wine since the late 1880s, providing wine worldwide to other vintners for blending. Visiting Lodi is really an opportunity to see the evolution of a wine industry still evolving with boutique and major wineries.



CONTACT


Reservations: 209-334-6988
info@winerose.com
winerose.com
2505 W Turner Rd. Lodi, CA 95242
$169 and up



SPECIAL NOTES


Weddings and receptions, corporate events and meetings, Aveda certified salon, culinary events, environmentally friendly business practices.

Touring & Tasting is a media company that produces a wine and travel magazine and is also partner in the Hitched Wine Club.