The upper left edge of the Michigan "mitten" holds many treasures. Stately pine forests, windswept peninsulas, sugar sand beaches, towering dunes, crystal blue lakes, acres upon acres of cherry orchards, and thriving vineyards. At the heart of all of this sits Traverse City, a gem of a town just waiting to be discovered. Well actually, it has already been discovered by many talented chefs, musicians, fine artists, and creative winemakers who know a good thing when they see it. And then there's the press. We keep putting Traverse City at the top of the list for surprisingly good wine, great food, and activity-filled vacations.

For starters, Bon Appetit has listed Traverse City among its Top Five Food Towns; TripAdvisor.com dubbed it One of America's Top Ten Wine Destinations in 2009; and in 2012, National Geographic included it as one of its Top 10 Summer Trips in the World. Celebrity Chef Mario Batali summers on the Leelanau Peninsula and spends a good deal of time unwinding in the Traverse City area, nibbling on tart pie cherries and sipping local wines.

If this freshwater paradise wasn't already on your radar screen, don't feel bad, because we're putting it there now.



Beautiful


Winter, spring, summer, or fall, no matter when you visit Traverse City, be sure to bring two items: binoculars and a camera. Traverse City sits right on Grand Traverse Bay with two unspoiled peninsulas stretching northward. Everywhere you turn is view, view, view, so be prepared to see natural landscapes, wildlife, tall ships, and people doing fun, adventurous things.

In the midst of Traverse City's largest park, The Village at Grand Traverse Commons offers a remarkable variety of restaurants, retail shops, a tasting room, and even the region's first urban winery. This stunning Victorian-Italianate structure is one of the largest historic preservation and adaptive reuse redevelopments in the country.

Visit the History Center, the City Opera House, Mission Point Lighthouse, and Grand Traverse Lighthouse Museum. Shop on Front Street and at the Village at Grand Traverse Commons. Play blackjack at a casino, relax at a full-service spa, play golf at a nearby golf course, or listen to live jazz. Simply put, have a beautiful day.



Bountiful


Long known as the "Cherry Capital of the World," Traverse City produces about two-thirds of America's tart cherries and a good portion of its sweet cherries, too. Each May when the cherry trees are in full bloom, the Blessing of the Blossoms Festival is held on the Old Mission Peninsula. Every day, all year long, you can find some form of cherry in every gift shop and market in town, from dried cherries to cherry coffee.

But cherries are getting a run for their money these days. Traverse City takes all food seriously. The area is home to three James Beard-nominated chefs and has a strong farm-to-table viewpoint. These locavores embrace the bounty of neighboring farms and lakes. Many award-winning restaurants feature grass-fed beef, local pork and sausages, and cheese from nearby dairies. Fresh lake trout and whitefish, caught hours earlier, inspire innovative chef specials.

What's more, Traverse City wine country lies along the 45th parallel (the same latitude as the Bordeaux region of France) in a unique microclimate that is producing some very impressive Vitis vinifera wines. The region has earned the respect of leading wine critics who are impressed with the ability of local winegrowers to identify and cultivate the grapes most suitable to its terroir. In fact, USA Today named the area One of the Top Ten Places to Enjoy Local Wines in 2010.



Where to Tour and Taste


Traverse City wine country lies just to the north of town on two breathtaking fingers: Leelanau Peninsula and Old Mission Peninsula. Here, the fine soils, moderate lakeshore climate, and breezes from Grand Traverse Bay and Lake Michigan have produced classic European vinifera vines for nearly 40 years. Expect to sample award-winning varietals like Riesling, Pinot Blanc, Pinot Grigio, Chardonnay, Gewürztraminer, Cabernet Franc, and Pinot Noir.



Leelanau Peninsula


Boasting 30 wineries and a spectacular 75-mile strip of Lake Michigan shoreline, Leelanau Peninsula is absolutely mesmerizing. You can drive for miles on end, enjoying its jaw-dropping views of the sand, water, undulating landscapes, and thriving vineyards. Be prepared to stop often—at winery tasting rooms and in the small, quaint towns of Empire, Glen Arbor, Northport, Leland, and Suttons Bay. Each winery and each town has its own special charm.

Be absolutely sure to visit the Sleeping Bear Dunes National Lakeshore, voted The Most Beautiful Place in America by viewers of Good Morning America. Here, 40-story high sand dunes cascade sharply downward to the Lake Michigan shore. Climb to the top or hike Pyramid Point for a stunning vista view of the Manitou Passage. If you'd rather not, drive along Pierce Stocking Scenic Drive for panoramic scenery.

At the end of a perfect Leelanau day, find a vista point or restaurant overlooking Lake Michigan and toast the glorious sunset with a glass of excellent local wine.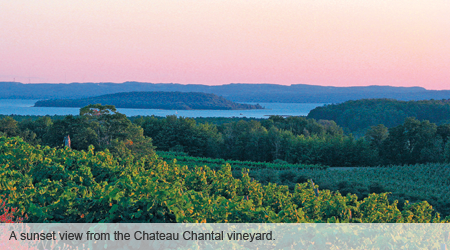 Old Mission Peninsula


Jutting 19 miles north into Grand Traverse Bay, the Old Mission Peninsula is surrounded by 600-foot deep water, creating a meso-climate that's unique not only to Michigan, but to the entire world. The wine trail offers breathtaking views of Grand Traverse Bay and eight distinctive wineries, all within five miles of each other.

You can easily explore this stunning stretch of land in a day. There is no best place to stop, you'll find picture perfect surroundings in nearly every vineyard. Start with a hearty breakfast and then start exploring. If you're cycling, you'll appreciate the flat shoreline, but you'll also find steep hills along the way, especially at the tip. Make the climb and be rewarded in all directions with views of both bays, vineyards, and cherry trees. Enjoy lunch at a fine restaurant and then while away the afternoon with a visit to the Old Mission Lighthouse and Park at the tip of the peninsula, and a walk or swim at Haserot Beach. Taste the wines and come to appreciate the essence of this inimitable wine region. Visit traversecity.com to learn more.



TOUR


Grand Traverse Lighthouse
Dennos Museum
Fishtown, Leelanau Peninsula
Grand Traverse Bay
Interlochen Center for the Arts
Microbreweries
Old Town Playhouse
Sleeping Bear Dunes
Traverse Symphony Orchestra
Wineries



TASTE


Chardonnay
Gewürztraminer
Lake Michigan whitefish
Leelanau Cheese Company's Raclette
Pinot Grigio
Pinot Noir
Riesling
The Cook's House for fresh fish
True North Vodka



VISIT


To learn more, visit
traversecity.com
lpwines.com
wineriesofoldmission.com



2013 PRIMO EVENTS




Blossom Days May 18


A celebration of blossoms, beauty, and bounty on Old Mission Peninsula



Divas Uncorked! June 21


An evening devoted to women, wine, and food on Old Mission Peninsula



Traverse City Wine & Art Festival June 22


A gala weekend of wine, food, and culture at the Village at Grand Traverse Commons



National Cherry Festival June 29–July 6


One of the nation's top festivals featuring 120 events in Traverse City

Touring & Tasting is a media company that produces a wine and travel magazine and is also partner in the Hitched Wine Club.