3 Dangerous Tactics That Could Destroy Your Marriage
There's no need to blame, shame or to be right. Here's how to avoid these three common tactics that will put a major wedge between you and your spouse.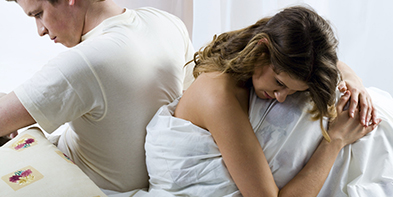 ---
"
We think that if we do prove our point, we'll be valued, loved, and revered. However, all we're doing is hurting our spouse and driving a wedge in the relationship."
What you say in a fight can sometimes pack a punch. Never underestimate the power of your words and actions when arguing with your spouse. If you do, you run the risk of hurt, resentment, and unhappiness building in your marriage. In fact, the potential outcome could be an affair or divorce. So it's extremely important to know what you shouldn't do in a fight.

When we're angry and/or hurt, our instinctual response often includes blaming, shaming, and the need to be right, trying desperately to get our partner to hear us. Sometimes our natural instincts do not serve us because they can create destructive fighting patterns that impose pain and hurt on our partner. By learning what not to do, you can learn what you can do to resolve an argument without damaging yourself or your spouse.

Here are three dangerous tactics that could destroy your marriage:



1. Blaming.

We blame because we think that if we can show our spouse that they are worse than we are—more at fault than we are—then they'll stop blaming us. But blaming can activate a primal feeling of defense that makes our spouse want to fight back. Unfortunately, all this does is continue the argument, alternating between attacking and defending. When we feel attacked, we defend, but we never resolve the conflict.



2. Shaming.

When shame is brought into an argument, we move from focusing on an issue to attacking the person. Shaming is particularly damaging for two reasons: First, it tends to globalize or exaggerate the conflict to such a degree that it's impossible to know exactly how to respond to the accusing partner. Second, if we demoralize our spouse by telling them they disgust us (vs. focusing on the particular behavior that is creating a reaction in us), then we attack the very ground of intimacy that we have built with that person. There's a big difference between saying, "You're a selfish person who never thinks of anyone but yourself. I hate you!" to saying, "What you just said to me is not okay. I don't like how you're treating me. It makes me feel badly about myself."

Extreme forms of shaming can lead to contempt. In fact, it has been found that one of the best predictors of divorce is a marked tendency of at least one partner to express contempt. The essence of contempt dries up the possibility of growth and change, and the love a couple once had begins to disappear and is replaced with hostility and hate.



3. Need to be right.

What solidifies conflict is a rigid and ultimately destructive stance—the need to be absolutely right. Rather than talking about feelings of vulnerability, abandonment, fear, or anxiety that are at the core of the argument, it seems easier in the short run to just make a case for being right. When we need to be right, what we really want to do is to be heard, seen, and appreciated. But, unfortunately, the message we're putting out when we're trying to prove our point is one of meanness, authority, and control. We think that if we do prove our point, we'll be valued, loved, and revered. However, all we're doing is hurting our spouse and driving a wedge in the relationship. This eventually becomes a wall that builds up so high with pain and suffering that the couple begins to lose feelings for each other and becomes numb. Unless the proper tools are used to start tearing down the wall, the division can eventually bring destruction to the marriage.

As you can see, when you blame, shame, and need to be right, you're creating an atmosphere that perpetuates fighting and resentment, which can lead to the breakdown of your marriage. However, when you listen, take responsibility for your own actions, and have empathy, you're creating an atmosphere where your goal is resolution, not resentment.

Also known as the "last ditch effort therapist," Sharon M. Rivkin, therapist and conflict resolution/affairs expert, is the author of "Breaking the Argument Cycle: How to Stop Fighting Without Therapy" and developer of the First Argument Technique, a 3-step system that helps couples fix their relationships and understand why they fight. Her work has been featured in Oprah Magazine, Reader's Digest, Time.com, Yahoo!News.com, WebMD.com, and DrLaura.com. Sharon has appeared on TV, was quoted on The Insider TV show, and makes regular radio appearances nationwide. She has also appeared on Martha Stewart Whole Living Radio and makes regular radio appearances nationwide. For more information, please visit her website at www.sharonrivkin.com.


---
---
---
Leave a Comment