Winemaker Amy Thorn and her husband, Jack, traveled 3,000 miles from their native Pennsylvania in search of the perfect terroir to establish their winemaking business and ?Thorn Hill Vineyards. "Good winemaking begins in the vineyard, nurturing the grapes to cultivate fruit imbued with the flavor and nuances of the terroir," Amy says. "The terroir—encompassing location, climate, soil, drainage, and perfectly matched clone selection—is imperative in crafting a quality wine."

The Thorns found their "vein of gold" in Lake County's Red Hills AVA. Seven years later, Amy's perfectionist standards and passion are yielding exceptional California artisan wines. They are often produced in very small lots: with as few as a hundred cases per varietal.

Located north of the Napa Valley, on Highway 29 near Mt. Konocti, Thorn Hill's tasting room is a Mediterranean-inspired haven of fountains, travertine patios, stained glass, stone fireplaces, ponds and gardens. Guests are encouraged to relax and soak up the beautiful surroundings as they enjoy tasting the delicious, full-bodied results of Amy's discerning palate and unrelenting attention to detail. She employs vineyard management techniques that ensure her grapes achieve the peak ripeness needed to create world-class wines. Through intuition and taste, she discovers the expressive core of each site's fruit and brings that essence forth in her wines year after year. "Quality winemaking takes imagination, experience, a deft hand with technique, and an openness to learn from each vintage," she says.

Thorn Hill Vineyards' wines are big and bold, with complex fruity flavors. The traces of minerals apparent in the volcanic soils lend earthy or flint notes that add to the complexity. Wine enthusiasts can discover the entire portfolio in Thorn Hill Vineyards' Lake County tasting room, as well as in two other locations: the Napa Valley; and Lancaster, Pennsylvania, where Thorn Hill is the only tasting room pouring California wines.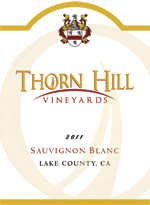 WHAT TO BUY




'11 Pinot Grigio - $21


Key lime, pineapple, herbs, passion fruit, pear, citrus



Brut Cuvée de Prestige - $32


Floral strawberry, apple, graham cracker, citrus, pear



'08 Red Rock Reserve Cabernet Sauvignon - $40


Ripe berry, cassis, smoke



CONTACT


707-279-2745; 717-299-3688
info@thornhillvineyards.com
thornhillvineyards.com



TASTING


Tasting Room Open Daily 11–6
8170 S Highway 29
Lower Lake, CA 95457



SPECIAL NOTES


Weddings and receptions, wine club discounts and events, winemaker dinners and culinary events, educational seminars

Touring & Tasting is a media company that produces a wine and travel magazine and is also partner in the Hitched Wine Club.