Yolo County: America's Farm to Fork Capital
Nestled between California's capital and Lake Tahoe is the fertile Yolo County.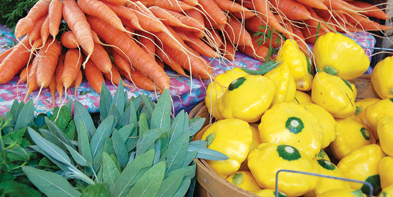 Photos courtesy of Touring & Tasting
---
"
Yolo County is easy to love. Its fertile fields nearly burst with abundance, and its towns hold good-hearted people who are proud of their roots."
Full of charm and surprises, Yolo County is tucked between San Francisco and Lake Tahoe, less than half an hour from the steps of the capital of California in Sacramento.

Yolo County is easy to love. Its fertile fields nearly burst with abundance, and its towns hold good-hearted people who are proud of their roots. It provides many of the resources that have helped Sacramento become America's Farm-to-Fork capital—not only through its amazing bounty of fresh fruits, vegetables, ranch-raised meats, honeys, oils, jams, and regional wines—but through its commitment to the environment and education. Yolo County is home to UC-Davis, a leader in agricultural advancement, and a slew of farms and farm communities eager to share their knowledge. Foodies who know this slip out to Yolo County to tour, taste, and learn more about the foods they eat from warm, friendly folks who make them feel right at home in the heart of America's bread basket.



LOCAL WINES


Yolo County embraces two wine regions and about 20 wineries, producing an impressive variety of premium wines. A great way to sample lots of them is at the Old Sugar Mill in the historic, riverfront town of Clarksburg. The Old Sugar Mill is home to a unique community of 10 wineries, plus Clarksburg Wine Company, a state-of-the-art custom crush facility that started producing its own excellent wines in 2010. TheOld Sugar Mill is also a popular, festive place for wine-related events throughout the year including the Wine, Cheese & Bread Faire; Port & Chocolate Lovers Weekend; and private parties.



LOCAL FINDS


Besides the opportunity-rich university, Davis has more than 100 miles of bike paths and lanes, plus the biweekly Davis Farmers' Market (voted America's Favorite Farmers' Market by America Farmland Trust). Listed on the National Register of Historic Places, Winters is a walkable classic strip of Americana. Take a stroll with stops in the tasting rooms, galleries and restaurants. Woodland has some striking Victorian and Craftsman-style homes to admire, plus the Heidrick Ag History Center with engaging exhibits. In the northwest part of the county, you'll find Capay Valley and its many hamlets, vineyards and orchards. In the southeast, there's Clarksburg, home to the Old Sugar Mill, where—besides everything else we've mentioned—you can enjoy summer concerts, marvelous wines, and the soft river breeze.



Inside Scoop


The best way to enjoy this bountiful county is through its many farm tours. For a long list of tour options visit yolocvb.net/farm-tours.html.

Touring & Tasting is a media company that produces a wine and travel magazine and is also partner in the Hitched Wine Club.


---
---
---
Leave a Comment