You Don't Have to Live Your Spouse's Dream
Have a dream, but your spouse isnít really feeling it? Why itís important to keep them in the equation, but at a distance that pleases you both.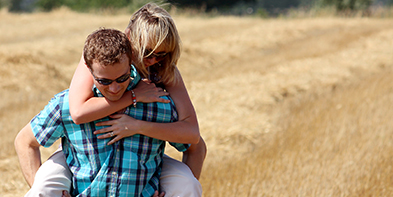 ---
"
Just because you got married doesnít mean you and your beloved will grow in precisely the same directions."
If youíve developed a fascination with mountain climbing and scaling the Himalayas is now on your bucket list, pick a friend who mountain climbs to go do it with!

It is tragic and unfair to expect your spouse, a loving mate in so many ways, but who has a desperate fear of heights, to join you in your mountain climbing adventure. You will either spend your whole time trying to teach, cajole, push and prod your spouse into climbing, and/or you will be frustrated and resentful at him/her for not doing so and spoiling your fun. Either way, you will both have a perfectly miserable time of it.

Sounds like basic common sense, right? Yet this is precisely what we do to our mates when we insist they join us in whatever experience weíve decided we wantóthat they donít.

People grow. We never stop growing and changing in a million ways, large and small, from birth to death. Just because you got married doesnít mean you and your beloved will grow in precisely the same directions. Itís pretty much guaranteed that you wonít! Yet too often we expect our husbands and wives to be by our sides through all our varied life-interests: every dream, every hobby, every exploration. Absolutely not going to happen.

But hereís the thing: itís not good for you to abandon a dream just because your spouse doesnít want to live that dream with you. Instead, focus on ways you can experience your dream, while keeping your spouse in the equation in a way that pleases him/her.

For example, your spouse may never want to get near a mountain peak, but might enjoy meeting you at the charming cafť at the base of the mountain after your practice session. Or your spouse may happily explore the nearby woods and photograph every bird, tree and snail in sight, snuggling up to you at the end of your mountain climbing day, both of you having satisfied your respective interests. Or your spouse may enjoy some alone time, reading that special book and relish both the solitude and the good-feel of your safe return home.

In other words, if you want to mountain climb, pick someone to do it with who mountain climbs! Then you'll be free to really develop your mountain-climbing skills, enjoy the scenery along the way, and happily share the experience with your sweetheart on your return.

Noelle C. Nelson, Ph.D., is a relationship expert, popular speaker in the U.S. and abroad, and author of nine best-selling books, including "Your Man is Wonderful" and "Dangerous Relationships." Dr. Nelson focuses on how we can all enjoy happy, fulfilling lives while accomplishing great things in love, at home and at work, as we appreciate ourselves, our world and all others. For more, visit www.noellenelson.com and follow her on Twitter @DrNoelleNelson.


---
---
---
Leave a Comment