Taking in Loudoun DC's Wine Country
Gaining in popularity, Virginia's wine country offers a full calendar of engaging events to compliment their delicious wines.
Photos courtesy of Loudoun County
---
"
Wherever your country drive takes you, follow your hunches and stop often. Savor the scenery and flavors."
On the western banks of the Potomac River, just about 25 miles from the heart of Washington DC, beautiful Loudoun County, Virginia holds hundreds of excuses for you to get away. It's blessed with wine, horses, Civil War history, quaint towns and villages, rave-review restaurants, and scenery so stunning, you'll find it hard to believe that the nation's capital is just a stone's throw away. Loudoun County offers a full calendar of engaging events all year round, and someone there is always cooking up something innovative and new to do. Case in point: on Labor Day weekend (August 30–September 2, 2013), in partnership with Saveur magazine, Loudoun hosted the inaugural Epicurience Virginia. When they came up with the idea for the event, it was so unique, no existing name quite described it.

What exactly is an epicurience? It's an event where people gather to savor award winning wines and the latest farm-to-table cuisine. The finest wines of Virginia and cuisine from some of the nation's most celebrated chefs are sampled and lauded. The timing of the event is perfect, because it coincides with the August 29 grand opening of the Salamander Resort & Spa in Middleburg. Already an iconic resort, with 168 luxurious rooms, 23,000- square-foot spa, and full service equestrian center, Salamander hosted the spectacular Main Event on August 30. Then on August 31, a Grand Tasting was held on the grounds of the grand and gracious Morven Park in Leesburg. A former governor's mansion, Morven Park stretches across 1,000 acres, providing a singular setting for an epicurience and many other wine tasting events.

As exciting as this inaugural event was, it's only the beginning. There's much more to experience in DC's wine country! Summer, fall, winter, and spring—you'll always find something to do. During the summer, the Loudoun County calendar features wonderful, warm weather activities like outdoor summer concerts and art shows, birding expeditions, small town parades, wine and food festivals, sidewalk sales, and farm cooking classes.

In the fall, when the dogwood trees turn a muted red, there are more concerts, festivals, sales, and classes—plus crisp, crunchy apples to pick in the orchards. What's more, October is Virginia Wine Month, which means scores of wine-filled events all across the county. Loudoun' s Fall Color Tour, a third-weekend-of-October tradition (October 19–20, 2013), is a great excuse to spend the weekend in the country. Several working Loudoun County farms open each day to share their many joys including horses, alpacas, cattle, donkeys, and sheep in their natural environments; hayrides; fresh produce stands; and apple and pumpkin picking.

On any day of the year, wine touring throughout Loudoun County is particularly easy because the wine touring map groups the 30-plus wineries into six driving clusters: Loudoun Heights, Waterford, Potomac, Mosby, Harmony, and Snicker's Gap. Each drive is a great experience unto itself. You'll find yourself on country roads that wind along stacked stone fences, rolling pastures, and exquisite barns and stables. Historic homes, parks, and gardens dot the landscape—and of course, there are the vineyards. Stop at a winery and don't be surprised if you're greeted by the owner or winemaker. Wherever your country drive takes you, follow your hunches and stop often. Savor the scenery and flavors. In Loudoun, on any day, 365 days a year—there's so much to take in.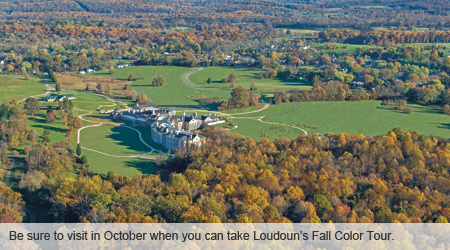 EVENTS


October 19–20
Loudoun's Fall Color Tour



BIKING TOURS


Trail's End Cycling Vineyard Tours



DRIVING TOURS


Journey through Hallowed Ground
Mosby Heritage Area: Drive through History
Virginia Birding and Wildlife Trail



WALKING TOURS


Destination Middleburg: A Walking Tour into the Past
Historic Leesburg Food Tour
Leesburg African American Heritage Trail
Purcellville Historic Walking Tour
Walk with Us through Waterford



VISIT


To learn more, visit www.visitloudoun.org and epicvirginia.com

Touring & Tasting is a media company that produces a wine and travel magazine and is also partner in the Hitched Wine Club.


---
---
---
Leave a Comment