Going To The Fair
Riding in on the summer heat is cotton candy and your local fair. Enjoy a date night with your spouse or the whole family.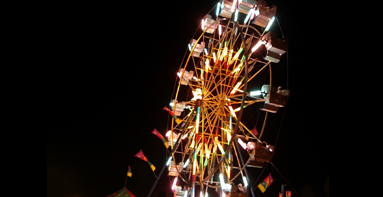 ---
Slip back into the nostalgic nights of your youth with a date at the fair. Hold hands as you walk down the midway, indulge in a funnel cake and share a kiss at the top of the Ferris wheel. With the twinkling lights, buzzing sounds and the possibilities to sneak away from the crowds, the fair is a perfect setup for a little summertime magic.

The fair is the ultimate preplanned date package: Whether you love thrill rides, animals, music, arts and crafts, food or all of the above, the fair has it all. You can make sure you catch a favorite band, comedian or racing event by planning ahead and checking your local newspaper or your local fair's website. But if this isn't your style, you can always go the spontaneous route.

"Half the fun of the fair is walking around and seeing what other people are doing," says Jeff Willson of California's Orange County Fair. "So revel in your fair's local flavor and unique blend of attractions."

Despite a strong local influence, some things remain the same among all fairs. "County fairs will have animals, shows, lots of food, name-brand entertainment and racing," says American Traveling Shows owner Rick Larson. "A couple can easily spend $100 for the night at a big event or $50 a night at a smaller one." These prices include parking, admission, dinner and rides. Entertainment is usually free, and the price can be much lower if you go midweek, when prices tend to be discounted.

On a weekday night, you can also avoid some of the crowds and get a chance to sit down and relax. One thing often overlooked at fairs is the wealth of food beyond the candy apples and corn dogs. Many fairs have sit down restaurants where you can get a full-course meal, a drink and maybe even do some dancing. Another hidden treasure is wine tasting. Sharon Autry of the Los Angeles County Fair recommends its Wine Pavilion, which has award-winning wines from around the world, as well as nightly tastings that shouldn't be missed.

If you prefer a more traditional time at the fair, head over to the livestock area. If you're lucky, it's not unheard of to see a live birth. Even if you don't catch one, there will still be plenty of baby animals to tug at your heartstrings. Speaking of cute with a dash of country thrown in, "The pig races are lots of fun," says Willson. "Baby pigs are possibly the cutest things you've ever seen."

If you're one to grow your own grub, agricultural shows will give you inspiration for your garden at home, or at least a glimpse at the biggest and best vegetables in the state. "If you really want to get interactive, go to the hypnotist show and volunteer to go up on stage," says Willson. Whether you get starry-eyed and do things your spouse would never believe or you just make a good effort, you'll have a good laugh and a story to tell.

The perfect date night at the fair awaits you and your spouse. The fair can be fun, exciting and even a little romantic – in a "let's be kids again" kind of way. "I'd start with the flower show then take a walk through the art gallery," says Autry. "Then I'd do the wine tasting and dinner, followed by the races. After that, I'd visit the animals, and to top it all off, I'd take a ride on the Ferris wheel."




---