Miraflores: Putting the Sierra Foothills on the Wine Map
Helping expand the reach of great wine locations in California, Miraflores adds a new wine stop in the Golden State.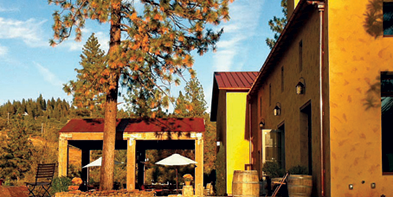 Photos courtesy of Miraflores
---
"
The striking Mediterranean-style winery building houses a state-of-the-art winery where the wines produced are tended with paramount care."
In the heart of the Sierra Foothills, acclaimed for interesting and historical places to visit, Miraflores is dedicated to helping write a new chapter in its history as a world-renowned viticulture area. Located in Placerville, California, surrounded by pine trees, wildlife, and rolling hills, the winery sits atop a sloping hill overlooking its beautifully manicured vineyards. The 254-acre old farmstead estate has an excellent terroir for its 38 planted acres and holds future sites for more vineyards.

The striking Mediterranean-style winery building houses a state-of-the-art winery where the wines produced are tended with paramount care. They are quality, old-world, artisan-style handcrafted wines. Arriving guests walk through towering glass doors into a stately tasting room with cathedral ceilings and a splendid décor accented with antiquities reflecting the Sierra Foothills and its rich history. They are greeted graciously and are quickly made to feel at home.

Miraflores is dedicated to making a difference in the wine industry. The wines in its sweet wine program have been duly noted by wine critics. An old-world process of drying grapes in the Amarone style for several months has shown remarkable promise for the new Tintoretto wine that can only be purchased in their creative Futures Program. The Zinfandels have been recognized for their consistent excellence by Wine Spectator, receiving over 90 points. Miraflores is known for its old world, artisan style of handcrafting wines. Besides unique sweet wines and peppery, rich Zinfandels, the portfolio offers estate grown Barbera, Tempranillo, Viognier, Chardonnay, Cabernet Sauvignon, Mourvèdre, as well as a Meritage.

Dedication, hard work, and innovative thinking keep owner Victor Alvarez in the game of creating new exciting wines for the Miraflores Estate label. Along with his team of ?Winemaker Marco Cappelli, Vineyard Manager Rick Wickham, and Manager Matricia Haigood, he is writing the history of wines to come in the Sierra Foothills.



WHAT TO BUY




'11 Rosé Crisp - $17


Fruity, ripe strawberry



'10 Barbera - $23


Black cherry, chocolate, toasted oak, vanilla, cedar



'09 Zinfandel - $25


White pepper, blackberry jam, black cherry, vanilla, violets



'09 Syrah - $26


Blueberry, blackberry, vanilla, violets



CONTACT


530-647-8505
info@mirafloreswinery.com
mirafloreswinery.com



TASTING


Tasting Room Open Daily 10–5
2120 Four Springs Trail
Placerville, CA 95667



SPECIAL NOTES


Private tasting and tours by appt, barrel tasting daily, food pairings in summer by appointment, weddings and receptions, picnic grounds.

Touring & Tasting is a media company that produces a wine and travel magazine and is also partner in the Hitched Wine Club.




---
---
---
Leave a Comment