Santa Ynez Valley: Revisit the Set of Sideways 10 Years Later
It's been 10 years since the movie Sideways hit the silver screen and the Santa Ynez Valley is ready for you to create your own sequel. We hear the Pinot Noir is great.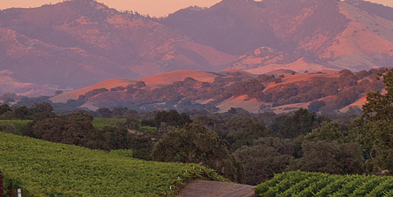 Photo courtesy of Santa Ynez Valley
---
"
I continue to be awed by the fact that a joke in a film could affect Merlot sales."
Ten years ago, a small independent movie called "Sideways" was filmed in the Santa Ynez Valley and was released to rave reviews. The film, which tells the story of two old friends on a wine country getaway, garnered five Academy Award nominations and one win, for the adapted screenplay by writers Alexander Payne and Jim Taylor. It appeared on many "best" lists, launched or resurrected the careers of its actors, and had a measurable effect on the popularity of two wine varietals across the United States.

As an added bonus, an unsuspecting star was born: the Santa Ynez Valley. Located just two hours north of Los Angeles, this sensational, authentic valley is the epitome of the Wild West, with jaw-dropping scenery, sprawling cattle ranches, rolling hills, wooded canyons, and grassy plains. First inhabited by the Chumash Indians, then Spaniard missionaries, then European immigrants, the Santa Ynez Valley remained off the radar screen of pretty much everyone else for a very long time.

For decades, the Santa Ynez Valley remained a hidden gem. Wine growing pioneers planted the first vineyards 40-some years ago, and for a while, most of the fruit was shipped to other regions. In 1975, Firestone Winery was the first estate winery to make its own wine using its own locally grown grapes. By the early 1980s, a handful of wineries had cropped up; and by the early 1990s, there were more than two dozen wineries in the region. Santa Ynez Valley was established as a federally approved AVA (American Viticultural Area) in 1983 and its first generation of winemakers embarked upon an exciting period of discovery: defining the terroir, identifying what grape varieties did best where, and experimenting with various farming practices. When the film crews arrived to film "Sideways" in 2004, the number of Santa Ynez Valley wineries was growing and two more AVAs had been introduced.

"[Pinot Noir] can grow in these really specific, tucked away corners of the world. And only the most patient and nurturing growers can do it, really. Only somebody who really takes the time to understand Pinot's potential can then coax it to its fullest expression." ~ Miles, "Sideways"

The name Richard Sanford is synonymous with Pinot Noir. Fascinated by the geology of wine, he was convinced that the region's long, cool growing season would provide an ideal environment for the finicky grape and was the first to plant it in 1970. His instinct was spot-on, and by the time Miles and Jack took their road trip, the Santa Rita Hills AVA (Sta. Rita Hills) was established based on its impeccable expression of Chardonnay and Pinot Noir.

Dick Doré, co-owner of Foxen Winery (where Miles and Jack help themselves to full glasses when the tasting guide turns her back), and his wife Jenny feel that "Sideways" had a positive impact on all of the region's wineries. "Consumption rose 16 percent across the U.S. the following year," Jenny says. "The movie introduced Pinot Noir to many who may not have turned to it previously: especially the 20 to 30 age group."

"If anybody orders Merlot, I'm leaving." ~ Miles

"Sideways" may have created a boon for Pinot Noir, but it hurt the love for Merlot. Following the film's release, the Merlot sales suffered a blow across the United States. "I continue to be awed by the fact that a joke in a film could affect Merlot sales," says Frank Ostini, owner of Hitching Post II, the restaurant where Maya waited tables and Miles consumed a late night bottle of wine on his own. "In real life, there was plenty of Merlot that was over planted and over cropped, and much of it made rather ordinary wines. Mediocre Merlot sales suffered. In Santa Barbara County, we have such diversity of climate that it turns out we have great warmer sites for Merlot." Frank, who also crafts wines for Hartley-Ostini Hitching Post Winery, contends that the caliber of the region's Merlot grapes has been undiscovered and underappreciated. "Since "Sideways" we have made more Merlot as we are attracted to the great value it offers—high quality at reasonable prices."

It has been a full decade since Santa Ynez Valley made its debut on the silver screen. Several local tour companies still run "Sideways" tour trips, inspired by the Fox Searchlight Pictures film, and some wineries proudly display signs and memorabilia related to the film. But do visitors really still care? We asked Sam Marmorstein, owner of Los Olivos Wine Merchant and Café, if today's customers ever mention the film. "We still have a good number of guests who visit us to relive the journey of Miles and Jack," Sam says. "They're glad to discover our "Sideways" Tasting Menu, with the actual items that the two couples in the film were served at our restaurant."



SIDEWAYS SYNOPSIS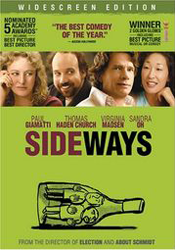 Based on the novel "Sideways" by Rex Pickett, the film "Sideways" is the story of two old friends on one last bachelor getaway. Miles (Paul Giamatti) is a divorced, unpublished novelist who channels his frustrations into his love of wine. Jack (Thomas Haden Church) is a has-been actor on the verge of marriage, determined to throw caution to the wind before his wedding on the following Saturday. They embark on a week-long getaway to Santa Barbara wine country. They taste many wonderful wines and meet many interesting people, including Maya (Virginia Madsen) and Stephanie (Sandra Oh), whom they'll never forget: and neither will we.





Lasting Memories



Martin Brown, general manager for Kalyra Winery (where Miles and Jack met Stephanie, the tasting guide who became Jack's week-long girlfriend), says his customers still mention "Sideways" often. "They filmed at our place for three days and renovated our tasting room in the process, so we had a great interaction with the crew, producers, director, and the cast," Martin says. "For us, it was amazing. But on a bigger scale, it put the idea of wine tasting as a trip and adventure on the map. The film definitely shed light on the whole wine experience in many ways and took the 'snobby' perception away and made it real." At Firestone Vineyard (where Miles, Jack, Maya, and Stephanie take a romantic walk through the barrel room), Winemaker Paul Warson says he frequently hears people mentioning the film. "We have a few people on staff who were here at the time of the filming," Paul says. "I'm told that they were a very kind and generous crew who invited the entire winery staff to join them at the catered events."

"While the story was fiction, the backdrop was all real," Ostini says. "Our region was portrayed accurately. 'Sideways' fans really loved the film in a highly emotional way. They came to visit because of the film, and today they return to enjoy our unique, laid-back, food and wine lifestyle in one of the most beautiful regions of California."



A Rising Star



Today, the Santa Ynez Valley is the region's largest AVA with more than 100 wineries. Although "Sideways" contributed greatly to its reputation as a premier growing region for Pinot Noir, many other varieties thrive here including Chardonnay, Sauvignon Blanc, Pinot Blanc, Pinot Gris, Grenache Blanc, Grenache, Petite Sirah, Marsanne, Cabernet Sauvignon, and Syrah.

"There continues to be more high quality grapes that will lead to a better selection of high quality Santa Barbara County wines," Ostini says. "Movie or not, we are blessed with a great climate to grow Pinot Noir, and we will continue to see better Pinots as well as many other signature varieties created here."

"I continue to be amazed at the diversity this region has," says Morgen McLaughlin, executive director of the Santa Barbara County Vintners' Association. "From tasting room experiences to geography to ways to spend the day, Santa Ynez Valley has a great deal to offer."

"We're gonna drink a lot of really good wine, we're gonna play some golf, we're gonna eat some great food, and enjoy the scenery, and we're gonna send you off in style, mon frère." ~ Miles

Miles had the right idea 10 years ago, and now, there's even more. For as wild and rustic as its terrain may seem, the Santa Ynez Valley is filled with exciting things to see and do. Each of the valley's unique towns (Ballard, Buellton, Los Alamos, Los Olivos, Santa Ynez, and Solvang) has shops, galleries, and restaurants to discover. The River Course at the Alisal, (where Miles and Jack played an amusing round of golf), offers a serene riverside setting and a stunning view of the Santa Ynez Mountains. Ostrich Land, the farm that Miles, Jack, Maya, and Stephanie passed on their way to a picnic (and Jack revisited later), is open seven days a week.

Miles and Jack spent nearly a week in Santa Ynez Valley. You should too. Stay in one of the more than 30 accommodations in this sensational wine country and you're sure to feel at home and well cared for as you rub elbows with a rising star: the Santa Ynez Valley.

Today, Santa Ynez Valley is the region's largest AVA with more than 100 wineries.

Touring & Tasting is a media company that produces a wine and travel magazine and is also partner in the Hitched Wine Club.


---
---
---
Leave a Comment