Relax in the Scenic Beauty of Sonoma Valley
Just a stone's throw from San Francisco, is one of the most serene patches of land found within the Golden State. Oh yeah, the food and wine are pretty good too.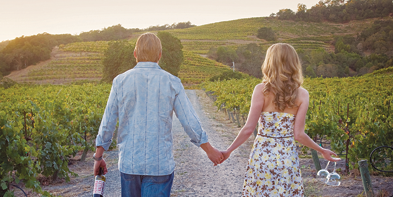 Photo courtesy of Sonoma Valley
---
"
Sonoma Valley began living green long before it became stylish."
Just 45 miles northeast of San Francisco's Golden Gate Bridge awaits Sonoma Valley: a rolling patchwork of scenic farms, parks, friendly communities, and vineyards.

Breathtakingly diverse, Sonoma Valley has earned its reputation as an authentic wine and travel destination for many good reasons. You'll discover the reasons wherever you turn. Stop at the farm stands, farmers' markets, and restaurants offering a bounty of local fresh produce, pungent olive oils, and artisan cheeses. Visit the state and regional parks and historic sites that tell the story of the valley's rich history. Hike, bike, and breathe in the sweet country air. Chat with locals who gave Sonoma Valley its reputation as one of the nation's proudest and friendliest places. And of course, sample the exquisite world-class wines that capture the aromas and flavors of this magical, yet genuine valley.

Inside Scoop: Begin your visit in the heart of the valley on Sonoma's charming, historic, eight-acre downtown Plaza. For a printable Plaza Wine Walk map, visit sonomavalley.com



Lay of the Land



At the foot of Sonoma Valley, the Carneros Corridor spreads out a stunning welcome carpet of low-lying vineyards and wetlands. Next, the friendly city of Sonoma, centered on the historic Sonoma Plaza, offers the majority of the valley's lodging, restaurant, and shopping options. The Springs, a collective name for four separate towns built near natural warm springs, which no longer exist, now spring forth with various eateries. The village of Glen Ellen is a bend in the road offering a few great restaurants, a deli, lodging, and a lot of character. Tree-lined Eldridge is home to a child-friendly petting zoo. Small, but offering a mighty view, Kenwood offers many tasting rooms and a few choice places to stay.



Local Wine



Did you know that the city of Sonoma is home to both California's oldest commercial winery and oldest family-run winery? From the plains and wetlands of its southernmost reaches to its hills and mountains 17 miles north, Sonoma Valley is blessed with an incredible range of conditions that create a multitude of terroir. In fact, the valley encompasses four very distinct AVAs that yield an array of world-class varieties. It seems like every variety has a home somewhere in Sonoma Valley! So expect to find (and love) everything from Albariño and Barbera to White Riesling and Zinfandel.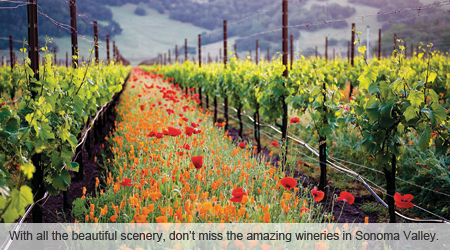 Local Food



Sonoma Valley's wonderful bounty knows no bounds. Here, people care about the origin of their ingredients and buy local whenever possible. Trips to the farmers' market are part of the weekly routine. Sonoma Valley began living green long before it became stylish. In fact, the city of Sonoma was selected as the nation's first "slow city" for the way it embraces its roots and artisan food and wines. Each winter, the burgeoning olive industry produces a new batch of luscious olive oils. So be sure to bring your appetite!



Local Finds



Tour Quarryhill Botanical Garden, with one of the world's largest collections of wild-collected Asian plants. Bouverie Preserve is a magnificent 535-acre enclave, home to evergreen forests, woodlands, and grasslands. A cutting-edge showcase for landscape architecture, Cornerstone Sonoma offers self-guided and private tours. The historic buildings, museum, and trails of Jack London State Park give you more to experience than hours in a day. And, of course, there's Sonoma Plaza! Visit Mission San Francisco Solano, see the Bear Flag Monument, and dine, wine taste, and shop all around the authentic square!

Touring & Tasting is a media company that produces a wine and travel magazine and is also partner in the Hitched Wine Club.


---
---
---
Leave a Comment