Willamette Valley: Explore the Land of Milk and Honey
This swath of bountiful Oregon land offers up great beer, wine, cuisine, scenery and community warmth.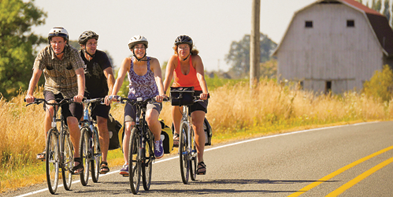 Photos courtesy of Willamette Valley
---
"
There are many ways to explore the great outdoors. Hike, paddle, or for a one-of-a-kind tour, cycle from vineyard to hopyard on the Willamette Valley Scenic Bikeway."
Just about 30 minutes southwest of Portland, the scenic beauty of the 120-mile long Willamette Valley in Oregon unfolds with an abundance of adventures and discoveries.

From the time Oregon's first settlers sunk their shovels into its fertile soils, the bountiful Willamette Valley has been called the promised land and the land of milk and honey. Today, it gives rise to some of the world's most distinctive Pinot Noirs. Geologists point to a series of ancient shifts in conditions that yielded its fascinating range of soil types. Beyond fertile, this is a generous land where people appreciate its bounty and feel inspired by its majestic mountains, hills, and valleys. The Willamette Valley offers intimate, harmonious communities rich in character and culture, outdoor activities, rejuvenating getaways, family entertainment, renowned cuisine, and world class wine.

Now known far and wide as Oregon Wine Country, the Willamette Valley is a wonderful, welcoming place. So explore! Wherever you go, you will meet warm, genuine people with a passion for what they do and this special, vibrant land they call home.



LAY OF THE LAND


Throughout the valley you will find gorgeous vineyards and welcoming tasting rooms. The Yamhill Valley boasts charming small towns, lots of wineries, and the world's largest airplane, the Hughes H-4 Hercules (also known as the "Spruce Goose"). The farms of Mt. Hood Territory raise elk and lamb, heirloom vegetables, and artisan goat cheese for your own farm-to-table feast. The Salem area offers a variety of attractions from Oregon's friendly capital city and historic buildings, to waterfalls, gardens, and boutiques. The Albany area is home to more than 700 historic buildings, plus museums, and walking trails. The Eugene area provides plenty of options for outdoor recreation, arts experiences, and a thriving craft beer scene. The Corvallis area is home to Oregon State University with athletic events, museums, art shows, and festivals.



LOCAL WINE


Fifty years ago, a generation of visionaries reclaimed tumble-down orchards and overgrown hillsides to plant Pinot Noir and other cool climate grapes, including America's first Pinot Gris. When one of these pioneers, David Lett, registered his 1975 Pinot Noir against a field of French Burgundian Pinot Noirs and won, the Willamette Valley found its place on the international map. Today, the Willamette Valley is known for some of the world's most distinctive Pinot Noirs, delightfully crisp and bright Pinot Gris, fresh and vibrant Pinot Blancs, and many other exceptional wines.



LOCAL FOOD


The Willamette Valley takes local food seriously. Expect to enjoy savory dishes inspired by locally grown meat, truffles foraged from local forests, and hazelnuts from local orchards. Wild mushrooms, herbs, and game also serve as an inspiration to local chefs. Many of the restaurants feature seasonal menus which change frequently, and lengthy local wine lists that complement the food. Even the beer is local here, flavored with Willamette Valley hops and barley in small batches by local brewers.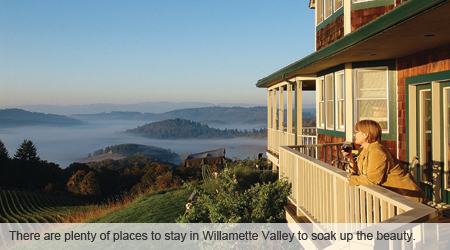 LOCAL RECREATION


There are many ways to explore the great outdoors. Hike, paddle, or for a one-of-a-kind tour, cycle from vineyard to hopyard on the Willamette Valley Scenic Bikeway. Follow this captivating route along the Willamette River from Champoeg Heritage Area (north) to Armitage County Park (south). Stop along the way to tour, taste, relax, and meet the wonderful locals. There is a variety of rewarding short rides on the trail, ranging in length from 13 to 42 miles and a one-way option too something for all nature-loving wine travelers!

To help you with the details of your visit to Oregon Wine Country, you can scroll through a myriad of options emphasizing adventure, culture, nature, or relaxation at oregonwinecountry.org.

Touring & Tasting is a media company that produces a wine and travel magazine and is also partner in the Hitched Wine Club.


---
---
---
Leave a Comment