Dreading Sunday
Are you anticipating Super Sunday between the Colts and Bears as much as your husband? Probably not, but Dr. K has some tips on how you can survive Sunday and both walk away happy.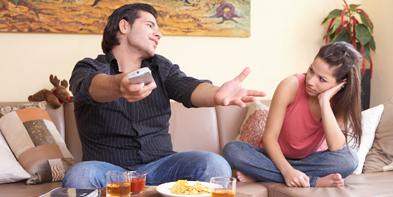 ---
I hate the Super Bowl. It always seems to be the catalyst for a Super Fight. If it's not picking up the house, it's the friends that come over. What can be done?

Aaah, the proverbial football widow on the worst day of the year—Super Bowl Sunday!

In our society, this day of the year has taken on a great deal of meaning with lots of different reactions to it. There are actually some wives who enjoy the day and partake enthusiastically in it. Others merely consider the day as a time to spend with their female friends and perhaps feel entitled to spend a bit extra on their own needs or pampering.

Your response is probably more typical, along with thousands of other wives who are experiencing the same sense of "I've had it up to here" and "What am I, chopped liver?" And yet, Super Bowl Sunday has become an institution in its own right and you're not likely to get your hubby to see it your way.

Before I get to the particulars, let me make some general comments about situations where each of you has such different needs. It's important to keep in mind that each person will be unique within the relationship—the two of you will not always agree on liking the same things. Those variations should be respected. (His needs count also.)

The other main point; you can never expect to change someone else. But what you can change is your reaction to the situation. What often happens is that when you alter your interactions with your mate, you'll get a response that's atypical from previous ones—most likely more to your liking.

The first step relevant to this matter is that you have to accept the fact that the Super Bowl is going to take place. Your husband is going to enjoy it—every moment of it! That is if his favorite team of that day is winning.

Realizing his enjoyment of the day includes not just the game, itself, but whatever rituals have evolved. Included, but not exclusively, are the following behaviors: wearing certain apparel or face paint, eating and drinking for sure, having several buddies over who will act either "manly" or like "junior high boys."

So, now let's tackle the specific responses you can make to change things around:
Consider offering to prepare the food and drinks as a gesture to show your acceptance.
You might actually want to show some interest by asking some questions before Sunday and periodically watching a bit of the game (Caution: Don't ask too many questions during plays—you might be considered annoying.
Certainly, the halftime show is something you might actually enjoy.
Do consider taking the day for yourself, but do so with a positive attitude.
When the day is over, ask how the game was and again show some interest.
If you look at these suggestions, you'll notice that these are the very same courtesies you'd like to be shown about an interest of yours. And that's what a relationship is—give and take. Who knows? Maybe, with a little fine tuning on your part, you can get him to go to the ballet. Either way, showing you care will really score you points!

Karen Sherman, Ph.D., (www.drkarensherman.com) is a practicing psychologist in relationships and lifestyle issues for over 20 years. She offers teleseminars and is co-author of Marriage Magic! Find It! Make It Last.


---
---
---
Leave a Comment