When Fess Parker purchased his 714-acre ranch back in 1987, he had a vision for the future of his family and Santa Barbara County wine country as a whole. He pictured multiple generations of the family producing wines that would express the terroir of the land he so fervently loved and believed in. An outgoing and hospitable man, he also dreamed of owning and managing an elegant and yet unpretentious inn where guests could relax and enjoy the best the country life has to offer. Today, Fess's dreams are realized in the Fess Parker Winery, which will celebrate its 25th anniversary this year, and the Fess Parker Wine Country Inn located in the heart of nearby Los Olivos, California.

Crafting wines of the highest quality has always been the goal at Fess Parker Winery and a testament to its success is that every current release, including the Santa Barbara County tier of wines, has scored 90 points or higher in most of the major U.S. wine publications. Recent examples include the 2010 Ashley's Pinot Noir, which received 92 points from Wine Spectator, and the 2011 Ashley's Chardonnay, which earned 93 points from Wine Advocate.

The winery itself can be found on the picturesque Foxen Canyon Wine Trail, a narrow country road that winds past ranches dotted with cattle and low-lying oak trees. The grounds at Fess Parker Winery are perfect for a picnic and the outdoor tasting bar is very popular. The main tasting room features rugged yet modern décor and is staffed with friendly and knowledgeable tasting room consultants. The winery is open daily for tasting with no appointment necessary. Private tastings, food and wine pairings, and tastings for larger groups can be arranged by appointment in the VIP Barrel Room.

Just down the road, the Fess Parker Wine Country Inn is a sophisticated escape with 19 beautifully appointed guest rooms featuring sleek, modern bathrooms and inviting fireplaces.Its unrivaled location in the township of Los Olivos is within walking distance of numerous tasting rooms and some of the finest dining opportunities in the entirety of the Santa Ynez Valley. It is the perfect place to relax and rejuvenate after a day of exploring vineyards and the countryside.

In addition to first class accommodations, the inn features a luxurious day spa; Petros, the inn's highly acclaimed restaurant; and many nearby recreational opportunities. The friendly and able staff is always pleased to coordinate spa, culinary, golf, horseback riding, and of course, wine tasting experiences for its guests. The inn also facilitates smaller wedding groups, business incentive trips, and girlfriend getaways. Fess Parker Wine Country Inn does all it can to make sure its guests enjoy all the possibilities that wait outside their door in the sensational Santa Ynez Valley.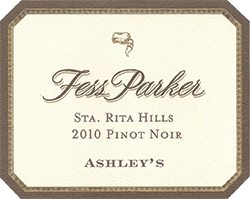 What to Buy Wines




'10 Sta Rita Hills Pinot Noir - $30


Bing cherry, red currant, cranberry, earth, cacao



'10 Rodney's Vineyard Syrah - $49


Black cherry, blackberry, plum, dark chocolate



'10 Big Easy - $35


Blueberry, blackberry, dark chocolate, all spice



Special Notes


Private tastings and tours by appointment, picnic grounds, wine club discounts and events, educational seminars.

Touring & Tasting is a media company that produces a wine and travel magazine and is also partner in the Hitched Wine Club.