Set in an environment that's as romantic as its name, Wine & Roses Hotel, Restaurant, and Spa offers visitors to Lodi, California, wine country a splendid retreat. From the moment they arrive, guests feel they're in good hands. The staff has a knack for sensing just how much pampering one requires and proceeds accordingly.

The hotel features 79 spacious guest rooms and suites located in a variety of settings. The Historic Inn, built in 1902, offers individually designed guest rooms, each with a distinctive charm. Garden Rooms boast rustic luxury, Spa Rooms emanate a Zen-like feel, and the Signature Suites are abundant with custom details and amenities.

No matter where they land, guests tend to feel right at home. They admire breathtaking views of lush gardens from their veranda or balcony as they settle in, appreciating the hotel's many creature comforts like Italian linens, down pillows, free Wi-Fi, in-room voicemail, and Aveda personal care products. Some rooms also feature flat-screen TVs, iPod docking alarm clocks, and plush Wine & Roses bathrobes. In the morning, guests can rise slowly in the comfort of their suite, or they can get an early start with a workout in the well-appointed fitness center or heated outdoor pool.

When it's time for breakfast, the Towne House Restaurant offers an eye opening menu, with appetizing specialties like Spanish chorizo tortillas and crab cakes Benedict. Guests can choose to dine in the historical dining room or out on the veranda, surrounded by flowering gardens and deodar trees.

From here, guests are encouraged to do just as they please. Some venture out to visit nearby wineries or explore downtown Lodi. Others linger by the pool, soak in the Jacuzzi, or head for the award-winning spa. Ranked number 19 in Spa of America's Top 100 Spas of 2012, the Spa at Wine & Roses offers a tempting menu of body treatments, facials, and more. The Wine & Roses Ultimate Treatment begins with a grape seed body scrub, followed by a rinse in a private outdoor shower, a luxurious massage, and wrap in body butter. A face massage during the wrap completes the experience.

It's no surprise that this sublime environment is a popular spot for all kinds of get-togethers. Those searching for a memorable spot for a business meeting, corporate event, executive retreat, training seminar, or awards banquet value the property's full event coordination and planning service. There's a dedicated banquet captain assigned to each event, ensuring that every detail will be attended to. Wine & Roses is a favorite of brides and wedding planners, too. The property features several unique wedding venues that provide the setting for everything from a small, intimate ceremony to a large reception for up to 350 guests.

Evenings are enchanting at Wine & Roses. On cool nights, the fireplace is lit in the lounge, sometimes live music plays, and the restaurant waits patiently with a menu featuring delicious California cuisine made from the freshest local ingredients.

After their stay, some guests realize that during their visit to Wine & Roses, they never left the grounds. And really, who would blame them?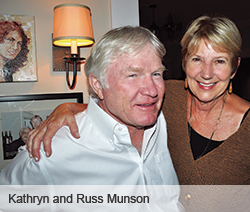 An Interview with Wine & Roses Founders Kathryn and Russ Munson




T&T: Through the past 25 years, your restaurant has earned a great reputation in the community. Why do you think that is?




RM:

Actually, since the early 1900s the Towne House has always been a gathering place for family, friends, and community. The history and beauty of the property draws locals, as does the long-standing commitment to the community of every owner through the years. In the last 25 years we have paid particular attention to the cuisine with a personal day-to-day involvement as the owners. Additional attention has been paid to the restaurant design, keeping it fresh.



T&T: Can you describe the cuisine and any objectives your chef may have?




KM:

Chef John Hitchcock concentrates on a straightforward cuisine, letting the dishes speak for themselves without too much fanfare. He describes himself as an American Classic chef, cooking seasonal food with great technique. Always striving for what can be is part of our mission statement and part of what we talk with Chef John about all the time.



T&T: You serve many Lodi wines. Do you think they complement your cuisine best?




RM:

Yes, when your food is grown and raised in the same region where the grapes are grown they naturally pair well. What's great about Lodi is that it produces so many different varietals that we can always find a wine that pairs perfectly with a dish. That doesn't mean that we don't carry wines from other regions, we just promote Lodi.



T&T: If you could give another restaurateur any advice, what might it be?




KM:

Be passionate and willing to commit exorbitant amounts of time and energy. To be great requires the stars to align…some magic!



SPECIAL NOTES


Weddings and receptions, corporate events and meetings, Aveda certified salon, culinary events, environmentally friendly business practices.

Touring & Tasting is a media company that produces a wine and travel magazine and is also partner in the Hitched Wine Club.