Facing Illness
Today, you're healthy. Tomorrow, who knows? How would your relationship change if your spouse became seriously ill?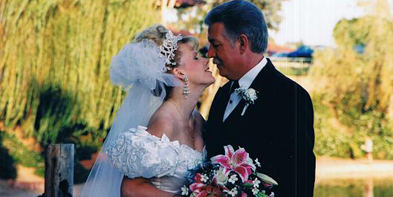 ---
Carole Brody Fleet's Story

My husband Michael and I knew one another almost 15 years before we married, so our marriage was very much a continuity of that friendship—except that my last name matched his. Our marriage was not exactly "conventional" since, in his capacity as an undercover narcotics investigator, he was gone a great deal of the time. Because of that, we took great advantage of the time that he wasn't on the job and had an enormous amount of fun together—both as a couple and as a family.

We enjoyed having people over, particularly during the holidays, and had a wonderful time going out together. We especially loved dressing up and going dining and dancing, which was a huge part of our life, as was being involved in our synagogue—and Mike wasn't even Jewish! He had a brilliantly dry and deadpan sense of humor, so even something as mundane as grocery shopping might turn into fun and games. No one could make me laugh like Mike.

Mike was a very physical man. I used to laughingly say that he was either chasing dogs (as a canine officer) or chasing bad guys. The man never sat still. To go from that kind of lifestyle to a wheelchair in a little over a year [due to amyotrophic lateral sclerosis, or more commonly referred as Lou Gehrig's Disease]; to no longer be able to perform even the most perfunctory tasks; indeed, to have to deal emotionally and psychologically with the inability to take care of one's own most basic needs is a devastation that defies description.

ALS does not progress the same way in any two patients. Sadly, the progression of the disease with Mike was quite rapid. The symptoms originated in his left arm and moved quickly over to his right side. One year after the symptoms appeared, he had no use of his left arm or hand whatsoever and the use of his right side was all but gone. This meant that he needed help to eat, dress, bathe and was no longer able to drive a car. Six months later, he was in a wheelchair, and six months after that, the disease moved to his respiratory system. Several months later, he could no longer swallow food and needed a feeding tube. He went from chronic to acute in a very short period of time—he was diagnosed with ALS in September 1998, and he passed away on December 19, 2000.

By the time that Mike was actually diagnosed, he had been symptomatic for a year. During that intervening year, he lost a tremendous amount of physical stamina, so we were not able to go out on a regular basis any longer. Even though the social life we enjoyed so much came to an end, we nonetheless compensated in other ways. We'd watch certain TV programs together every night and hold hands (I'd mold his fingers between mine). We had friends over for short visits and we made a big deal out of football games on TV every week. We made every attempt to keep our marriage as normal as possible for as long as possible, however, the relationship eventually went through the transition from husband-wife to patient-nurse.

The physical demands on me were tremendous. Because he was unable to physically assist, lifting him from bed to chair and back again was very difficult, as was the bathing process. I cared for him alone and with the as-needed help of my mother for the first year. When the physical and medical demands warranted, I brought in a caregiver to help from 8 a.m. to 8 p.m. six days a week.

Emotionally, it is the worst of heartbreaks to watch your husband, your beloved, deteriorate before your eyes and be absolutely helpless to do anything to stop it. I would rush to help him open a jar or a candy bar wrapper so he wouldn't have to experience the emotional pain of yet one more thing he was unable to do for himself. Looking at the one you love and knowing that he will never again be as good as he is today is as soul-wrenching as it can possibly get.

In addition to the emotional difficulty of caring for Mike, there was the inescapable fact that the illness that had victimized him was terminal. With ALS, there were (and are) no treatments, no surgeries and no remissions. He was facing the end of his life, and I was facing that end with him. The life that we knew was over. The future we had meticulously planned, dreamed about, fought over and laughed about would never come to be. Most personal was the fact that I was facing widowhood at a young age, which was a concept impossible to embrace—until he died.

As with most families struck by catastrophic illness, we went through a very financially challenging period, both during Mike's illness and after his death. Insurance does not cover in-home care. And although caregivers are certainly not making a tremendous amount of money, it is nevertheless a great deal of money going out of a household. We were blessed to have fundraisers held on Mike's behalf by the police department, as well as through our synagogue. However, even with their most generous assistance, we went through our entire savings and into debt. It took about two years before I was able to recuperate financially and re-establish security for my daughter and myself.

A catastrophic or terminal illness is one of the greatest challenges that you will ever know as a person and face as a couple. However, it doesn't have to be gloom and doom on a daily basis. With each person in the household making an effort—and yes, to the best of their ability, this includes the patient—there can still be times filled with warmth and laughter. There certainly were many of those times in our home.

Put Yourself in Her Shoes

What if you were faced with a similar situation? How would you react? How would you deal? How would you cope with the idea that your life will forever be altered—whether your spouse survives or not?

"The reaction to learning that one has a serious illness is similar to the human response to other types of emotional or physical trauma," says Paul Greene, a psychology professor who runs a support group for caregivers of people with leukemia and lymphoma. "People often become disoriented, dissociated, confused, numb to emotion, distant from others, detached from what moments earlier had been important and pleasurable." Because of this extreme reaction, it can be very helpful for your spouse to have you in the room as the doctor explains the diagnosis to help listen, ask questions, remember, assist in making choices and think clearly.

Once the initial shock wears off, you have to work at living with the illness. You may be angry at the illness or feel guilt over moments of relief or pleasure, says Greene. But you'll also learn to cope. "People usually cope by doing what they have done most of their lives," he says. "Fighters fight, quitters quit, but most of us do some combination and want to grow." And through the process, you and your spouse will learn what is really important in life.

Though you'll likely have to toss out or at least modify old goals, it's still important to have a realistic sense of what you can do and where things are going. "Focusing on realistic, meaningful and attainable goals usually helps restore some sense of control, purpose and even optimism," says Greene. "You may be thinking shorter-term or in smaller steps, but you should celebrate your accomplishments and your efforts."

One thing that helped Carole and Mike maintain their relationship during his illness was making sure to have physical contact. "An ill spouse still longs to be touched, held, kissed and loved," says Carole. "These simple gestures can be overlooked—and they mean everything to the patient. Continue to have as much physical contact with your spouse as you possibly can. It will give you both much peace and comfort."

There are also a lot of financial and legal concerns that arise when a spouse falls ill. Carole suggests that you plan ahead when you're both healthy and have a will and life insurance in place, as well as an advance directive—instructions on what sort of medical care should be provided if you can't communicate your wishes.

Then there's the issue of access to appropriate health care. Health insurance options may start to dictate your employment opportunities and choices, as they did in Lisa Salberg's case. Lisa has a heart condition, hypertophic cardiomyopathy, which led to her having a stroke at age 22—three weeks after her wedding. Now she has a pacemaker and implantable defibrillator to protect her from cardiac arrest. Though the stroke happened 17 years ago, living with her condition is something she and her family will always have to deal with.

"It's stressful knowing that the loss of health insurance could cause financial disaster," Lisa says. And beyond her financial concerns, her condition dictates her family's lifestyle in other ways. "Everything we do has to be balanced with what is safe and healthy for me," she says. "It would be much easier to not have to be so concerned about where the closest hospital is and if they have a good cardiology program and electrophysiology department."

Most important when caring for an ill spouse: Get help. You'll need it to cope, both physically and emotionally. Whether you look to your extended family, friends, community, a disease-specific support group or a counselor, you'll fare much better with their backing. Carole says she wishes she had asked for help sooner. But most of all, she asks readers facing an illness in their family to stay positive. She says, "Don't ever forget, where there is life, there is always hope."


---
---
---
Leave a Comment