Travel With Your Dog to this Classic California Beach Town
Pismo Beach is quintessential California, with sunshine, beaches, food, wine and much more.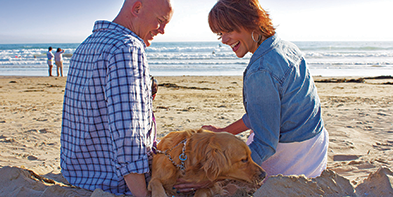 Photos courtesy of Pismo Beach
---
"
More than 60 percent of the lodging properties in Pismo Beach are dog friendly."
In the heart of California's Central Coast, the Classic California town of Pismo Beach is living the dream. Each morning, surfers stop to assess the waves, fishermen cast lines from the magnificent pier, and owners walk their dogs along the sparkling beach. It's amazing to realize that, in just a matter of minutes, they could all be standing in a rolling vineyard. Just up the road and around the bend, the wineries of South San Luis Obispo County, in Edna, and Arroyo Grande Valleys are waiting to be discovered.

It's hard—if not impossible—to find this proximity of waves to wine anywhere else. With downtown tasting rooms, wine shops, and wine bars, and more than 20 wineries less than 15 minutes away, Pismo Beach truly offers a Classic California vacation. And for dog lovers, there's even more to love about the Pismo Beach area: dogs who practice good petiquette rule!

"Our fantastic stretch of California coastline features pet-friendly parks, hiking and biking trails, wineries and restaurants for devoted pet owners, and we're no exception," says Katie Bottrell, sales and marketing manager for the Dolphin Bay Resort & Spa. "We understand that pets are a part of the family and they should experience the same exceptional service and amenities that we offer to all of our guests." In addition to size-appropriate bedding and dog bowls in guest suites upon arrival, the resort also offers personalized goodie bags complete with gourmet cookies and chews, pet bags, and other doggie surprises. Dogs are also welcome to join guests on the Oceanside patio of the on-site restaurant, Lido at Dolphin Bay, where custom pet friendly protein orders can be served with adequate notice.

It's not unusual to see a big water bowl outside a wine shop in downtown Pismo Beach, or to be greeted by a Classic California-style dog at a nearby winery. At Wolff Vineyards in Edna Valley, Brixie, a purebred black Labrador, is regarded so highly she has earned the title of hospitality director. There's even a special blend, Brixie's Red, crafted in her honor with her picture on the label. Brixie and her two cohorts Sammy and Daisy, are often rewarded with a beach walk after a hard day's work in the vineyard and winery. "We're dog owners ourselves and my wife Elke and I come from Europe where public establishments welcome dogs," explains Owner and Vintner Jean-Pierre Wolff. "More and more of our local hotels are becoming pet friendly, so it only makes sense to let their guests enjoy the full wine tasting experience with their dogs."

Also in Edna Valley, Chamisal Vineyards has two large outdoor patios where guests can enjoy the wines with their dogs at their side. Winery dog Kaya, a boxer, greets guests in the parking lot most every day. "We usually have dog treats and water outside for the pets," says Andrea de Palo, Chamisal's director of consumer sales. "I think that people love animals in general and they love to associate the dogs with the experience they are having at the winery and with the wines they taste." Pismo Beach is so dog friendly, it sponsors a fun Fire Hydrant 5K Race and Dog Expo each June, and provides a dedicated website, dogfriendlypismobeach.com, with helpful tips for dogs planning to visit the area.

Big or small, scrappy or mellow, dogs have a way of blending in nicely to the Classic California vibe of Pismo Beach. And there's so much for them to do!



Beach Lovers


With glistening white sandy beaches that stretch 23 coastal miles, this scenic area offers plenty of spots where dogs can dig their paws into the sand, as long as they stay on leash. Besides leisurely strolls, surfing, kayaking, surf chasing, and people watching, dog families can enjoy an off-road adventure at Oceano Dunes, the only California State Park where vehicles can be driven on the beach.

Dog-Friendly Beaches: Pismo State Beach, to the left of Pismo Beach Pier; Oceano Dunes, off Highway 1 exit



Park Walkers


The Pismo Beach area has many beautiful parks for dogs who like to socialize or just hang out with the family. Dinosaur Caves Park, an 11-acre park that overlooks the ocean, has great walking paths, a children's playground, and art walks on the first Sunday of every month. Many ball chasers head to Elm Street Dog Park, a new, off-leash park in Arroyo Grande.

Dog-Friendly Parks: Dinosaur Caves Park, Price Street, Pismo Beach; Elm Street Dog Park, Ash Street, Arroyo Grande; El Chorro Regional Dog Park, Dairy Creek Road, San Luis Obispo



Trail Hikers


There are many trails offering a variety of distance, elevation, and scenery to explore in and around Pismo Beach. Many provide great photo opportunities of the ocean, meandering creeks, and craggy mountain boulders. Dog owners must keep their dogs on leash and leave no "mementos" behind. From leisurely nature walks to exhilarating climbs, the Pismo Beach area has something for dogs of every fitness level.

Dog-Friendly Hiking Trails: Bishop Peak, San Luis Obispo provides a 360 degree view of Morro Bay, Pismo Beach, San Luis Obispo, and the vineyards of Edna Valley; Laguna Lake Park, San Luis Obispo is a migratory stop for birds—and dogs, who appreciate the loop hiking trail and proximity to an off-leash dog park; Irish Hills, San Luis Obispo has several miles of rolling trails overlooking Los Osos Valley; Cerro San Luis, San Luis Obispo provides views of the Irish Hills, downtown San Luis Obispo, and more; Lopez Lake features something for every canine's fitness level from easy strolls to strenuous climbs.



Restaurant Hoppers


From the basics to the exotic, the Classic California town of Pismo Beach has a wonderful variety of restaurants. Many invite well mannered and leashed canine guests to dine or sip water from their own bowls, while the owners enjoy an al fresco meal. The list of dog-friendly restaurants in the area is far too long to list here. Check out their list of websites or call the restaurant in advance to make sure they allow dogs at their outdoor tables.

Dog-Friendly Restaurants With Special Menus: Pierside Restaurant, Pismo Beach; Marisol at The Cliffs Resort, Pismo Beach



Resort Loungers


You'll find an array of hotel accommodations in and around Pismo Beach ranging from deluxe to budget, and vacation rental homes from bungalows to villas. Many have ocean views and easy walking distance to and from the beach, shopping, and restaurants—and many are dog friendly. In fact, some even provide doggy beds and doggy room service. With so many options, you'll want to visit their list of websites. Be sure to tell the establishment about your dog when you make your reservation so he or she receives a proper canine welcome!

Dog-Friendly Lodging With Special Amenities: More than 60 percent of the lodging properties in Pismo Beach are dog friendly. Both classiccalifornia.com and dogfriendlypismobeach.com have a complete list to help you consider all the options.



Whine-os


In Pismo Beach, wine and waves go hand in hand. In fact, there are around two dozen world-class wineries just minutes from the beach! Wine loving dog owners will appreciate the way their pets are welcomed at many of the wineries and wine shops in the area. From fresh water at the doorstep, to surprise treats at some establishments, dogs get a Classic California welcome.

Dog-Friendly Wineries: Baileyana Winery, Edna Valley; Claiborne & Churchill Vintners, Edna Valley; Chamisal Vineyards, Edna Valley; Laetitia Vineyard & Winery, Arroyo Grande; Wolff Vineyards, Edna Valley

Dog-Friendly Wine Shops and Wine Bars: Tastes of the Valleys, Pismo Beach; Vino Versato, Pismo Beach

Touring & Tasting is a media company that produces a wine and travel magazine and is also partner in the Hitched Wine Club.


---
---
---
Leave a Comment