Just 35 miles east of San Francisco, Livermore Valley wine country is very easy to get to, and when you arrive, the wineries are easy to find. We've scouted around and assembled this list of 10 great Livermore Valley tasting rooms to visit. Some are brand new, while others have been around for a century or more. Since not all are open daily, we recommend that you check their websites as you plan your itinerary.



Concannon Vineyard


This stunning family winery was one of the region's first. With a respectful nod to its heritage, the tasting room features reused materials like pecky cedar wood from an old fermenting room floor and California redwood from a giant 50-year-old barrel. Nearby, the "family room" fascinates guests with original documents, and other memorabilia. Adjacent to the tasting room, Underdog Wine Bar offers more than 50 wines from nearby vineyards and around the world, and imaginative farm-to-table fare. concannonvineyard.com



Crooked Vine Winery


Newly remodeled, this bright and airy tasting room has maintained an intimate feel that makes it a favorite of so many. This is due in part to the very friendly tasting room staff. Guests are welcome to taste along the stand-up bar and then sit on the front or in the garden courtyard with a glass or bottle of their favorite. This is a popular spot for weddings and private parties of all kinds. crookedvine.com



Cuda Ridge Wines


There's nothing like the smell of a new car, or a new tasting room whose winery is named after the ridge line of a 1972 Barracuda. Opened in August 2013, the charming 1,500 square-foot-tasting room sits amidst its newly planted estate Petit Verdot vineyard. Proprietor Larry Dino designed the space to include a regular standup bar, a seating area, and an area for private and winemaker tastings. Artisan cheeses and other picnic foods are for sale to enjoy at the outdoor picnic terrace. cudaridgewines.com



Darcie Kent Vineyards


In July 2013, the multi-faceted artist and vintner Darcie Kent opened her new tasting room in a charming little farmhouse. The interior is sleek and stylish, with a small wood-burning stove and purple lounge chairs and sofas gracing the room. The walls are lined with brilliant oil paintings, all painted by Darcie. Her splendid artwork complements the artisan wines, and vice versa. darciekentvineyards.com



Las Positas Vineyards


Although it has been open only a few years, the tasting room at Las Positas Winery has a pleasantly settled in and homey feel. In fact, the floor plan resembles a home, with the tasting room leading to a main event room and multi-use dining room for private events and tastings. The attractive mission-style grounds include a lovely courtyard with a fantastic vista view for picnics, relaxation, and great weddings, too. laspositasvineyards.com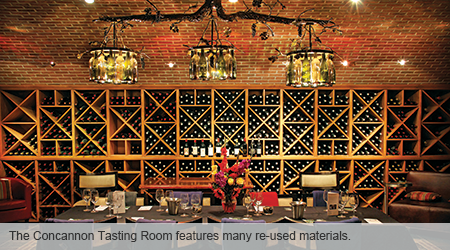 McGrail Vineyards and Winery


Set on a hilltop with a nonstop view of Livermore Valley, McGrail Vineyards and Winery has a warm and welcoming tasting room. Guests are invited to linger here, starting with a tasting of the small lot wines at the attractive tasting bar. There's a nice selection of wine-related gifts to admire between wines and a cozy patio where they can sit back and really drink in the splendid view. mcgrailvineyards.com



Murrieta's Well


Located in one of California's oldest and most picturesque winery buildings, the Murrieta's Well tasting room offers an intriguing lesson in history, as well as wonderful wines. The beautiful tasting room oozes a rustic charm with timber beams, old stone walls, and comfy leather seating to sink into. There's also a great selection of wine gifts and historical photos to admire. murrietaswell.com



Rubino Estates Winery


A grand gate and narrow palm tree-lined lane lead guests to the magnificent brick winery, now home to Rubino. Behind the mighty tasting room doors await the latest portfolio by Winemaker Chris Graves: an all Italian lineup from grapes grown in the renowned Rubino Vineyard Estate. The 8,000-square-foot tasting room features Italian marble floors and decorative columns. In a word: bella! rubinoestateswinery.com



Steven Kent Winery


This inviting tasting room offers a unique wine tasting experience. Instead of a tasting bar, the grotto-like Barrel Room features several private tables fashioned out of upended barrels. Guests stand at their own tables and are served their wines one by one. On weekends, the Reserve Room pours limited collectors' wines paired with cheeses. Reservations are recommended for Reserve Room tastings. stevenkent.com



Wente Vineyards


Wente has two inviting tasting rooms: one at the historic Estate Winery on Tesla Road; and one adjacent to the Wente Restaurant, Golf Course, and Event Center. The Estate Winery tasting room is open to the public daily and offers a splendid spot for a picnic lunch on the newly landscaped patio grounds. The Vineyard Tasting Room is open daily by appointment only. Fun and educational cave tours are offered on weekends. wentevineyards.com

Touring & Tasting is a media company that produces a wine and travel magazine and is also partner in the Hitched Wine Club.