Family Getaway: Central California Dreamin'
Why Monterey California is the go-to destination everyone will love.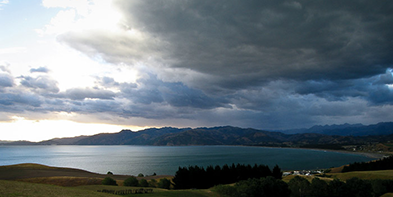 ---
"
Monterey brings a variety of weather including rain, fog, wind and gorgeous warm days. "
The search for the great family getaway is never ending. When you travel with teenagers it's even more of a challenge. Older kids tend to go off on their own, get bored quickly and technology can quickly interfere with the time ideally spent together.

As a Californian, we have some amazing destinations to choose from. However, the challenge to find a place to keep adults and teens connected can be overwhelming.

That's where a destination like Monterey, California comes in. Discovering all the area has to offer makes a trip there an adventure that keeps our family together on getaways. Recently, we chose to stay at The Portola for a few reasons: its proximity to the water, local shops and on site restaurant, Jacks, are unmatched anywhere else in the Monterey or Carmel area.

From the resort, the views are stunning, so it was easy to get everyone up and enjoy a wonderful breakfast together as we enjoyed the ocean sights, smells and sounds off our balcony. Given the way the rooms and balconies are situated, we enjoyed the views regardless of the weather. Monterey brings a variety of weather including rain, fog, wind and gorgeous warm days. From The Portola you won't mind less than perfect weather.

Exploring the town together gave us a great opportunity to play together, but also separate now and then to enjoy some individual shops and treats or activities. Monterey is magical in that there is so much to do within a very short distance. This makes it the perfect destination for families with older kids.

After a busy day, there's nothing better than a wonderful dinner. Often, this means traveling to a special restaurant. However, Jacks is conveniently located on site and is truly a dining experience everyone enjoys. The kids can then go to the room and adults can hang out, or the other way around. Given how close it is to the room, it's more like being in an all-inclusive resort rather than a hotel.

One thing that matters to me when I travel with my kids is for them to feel comfortable with the staff. Kids aren't always confident asking for things. I've never experienced such a warm, gracious staff. I do think they could make the resort a bit more teen friendly by adding special packages for teens, mother-daughters or father-sons, but overall it's one if the few times my kids felt very welcome, comfortable and entertained.

In today's world there are many considerations for choosing a family getaway. Monterey is one place that is a sure hit with everyone each and every time. The Portola is by far the perfect home away from home, ultimately creating the perfect family escape!

Anne Leedom is the founder of www.parentingbookmark.com. She is a frequent contributor to national websites and writes on travel destinations and family topics.


---
---
---
Leave a Comment